David Knight uncovers the joys of mountain biking on a cold Sunday morning.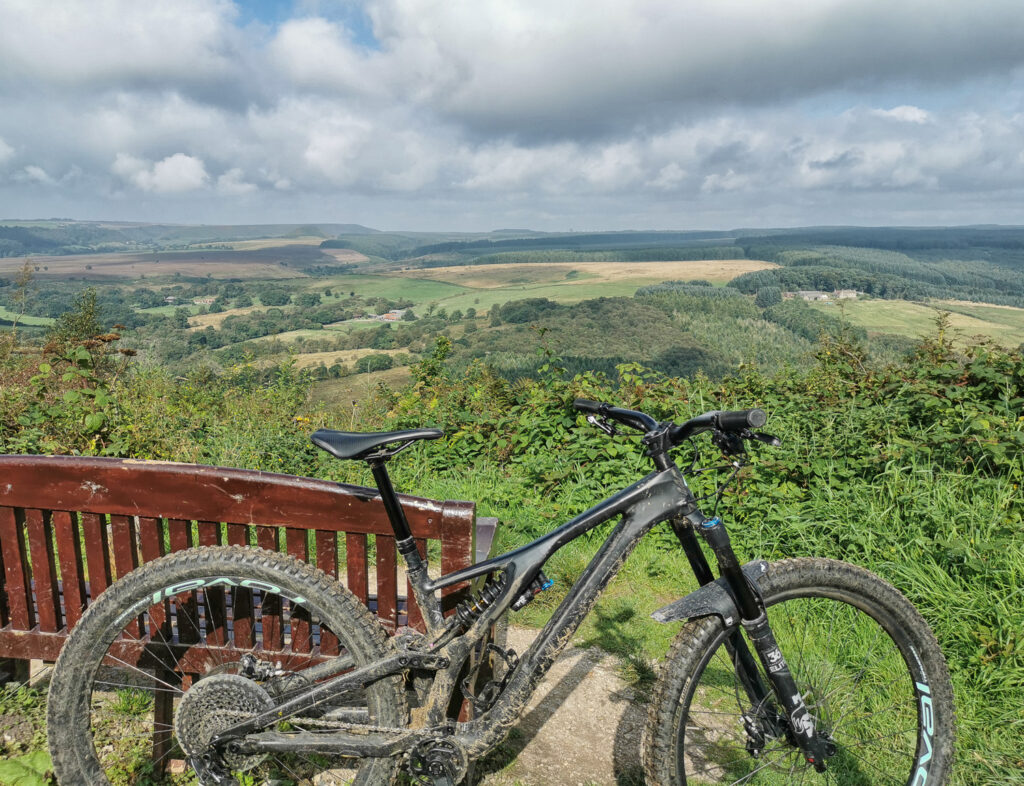 "I think I'll go for a ride tomorrow morning", and with that short sentence the planning started.
Midnight: I put my bike lights, helmet light and spare lights on to charge overnight, carried out a quick check of the bike and to bed I went. Kissed my wife goodnight, closed my eyes and immediately started planning my route in my head. 'How many miles, 15, 20, 30'? 'Will that track be too muddy, how muddy is too muddy, and what time should I leave?' Zzzzzzz
0600hrs. Sunday and I spring into action. Quietly as I can, I grab my clothes and base layer, check. Merino Mid layer, check. Next waterproof socks, mountain bike trousers, gloves including liners and neck tube, check. Whilst grabbing some peanut butter and banana toast, slurping on my cuppa I assemble my 'equipment'. Phone, lights, glasses, cash, chocolate bars and GPS tracker (in case of the worst), cycling backpack with tools, spares, waterproof trousers, jersey and 1st aid, check. Mountain bike shoes and overshoes, waterproof jacket and neck tube on next, helmet, gloves, glasses, backpack and bike.
"Right" I'm out of the door!
0800hrs. Setting off into the gusting headwind and –2C I make good progress for a few miles averaging 13mph. The roads are fast if not a bit icy, and the well compacted farm tracks are grippy even as I pedal like an ice breaker through the frozen puddles. Still going at a good pace although now averaging 9mph as I plough through wet sloppy grass fields which track the River Evenlode. At least it's flattish at the moment, my winter tyres earning their hefty price tag.
0845hrs and 9 miles done, time for a fuel stop so I frisk my bag for a snack bar, realising that the cold sensation in my feet is a result of my standing in six inches of fine Cotswold mud and that with every step I take, more is being forced up through the gap in the overshoe and into my shoes. A few well-trodden muddy gateways later and I concluded that waterproof socks are only waterproof to the top, with more gloop and weight being added with every step. The action of pedalling forced the water content to rise to the top whilst the muddy particles settled like clay.
0930hrs and 12 miles done my average pace is now 7mph which considering that I can't feel my toes isn't bad. I soldier on as I approach my first hill up a well furloughed trodden path. Searching for the best (grippiest) line I power up through the gloop, my rear tyre searching for traction and my front slipping on wet roots sending me in every direction but forwards. My pace? 4.5mph. With the bike sliding from under me I dab my foot down and sink into the abyss. Restarting on a steep muddy track is obviously futile. So, several attempts and expletives later I concede and start to walk. Pushing the bike and hauling myself up the hill through shin deep mud I can only describe as trying to push soup uphill with a fork. I trudge on occasionally looking back, expecting to see a Sherpa but no, I am alone. One man and his bike against the elements, average speed is now 3.1mph.
0955hrs and 12.5 miles I reach the top of the Matterhorn as I've renamed it, average speed 2.5mph. Time for another snack. It is too cold to remove my muddy gloves, so I tear at the wrapper and chew on the muddy nutrition bar. Now I am ready for the fast descent into the valley on a tree lined bridleway and farm track. This is the reward for climbing up hills on a bike, normally flying down at speeds reaching up to 30-40mph; hopping over roots and rocks, weaving between trees and occasionally 'getting some air'. Today's realty was slightly different – mud flying off the tyres into my face and backside, no grip, brushing past trees, stopping to clear the slop off my glasses so I could at least see what I was going to hit next. Surviving to reach the bottom, sighing with relief through a huge smile frozen to my face.
1015hrs and just a little over 13 miles, the 30 miles I had in mind was going to take some time.  But it would be worth it … I believe!
February – March 2022