'promoting confidence through performance' – old and new!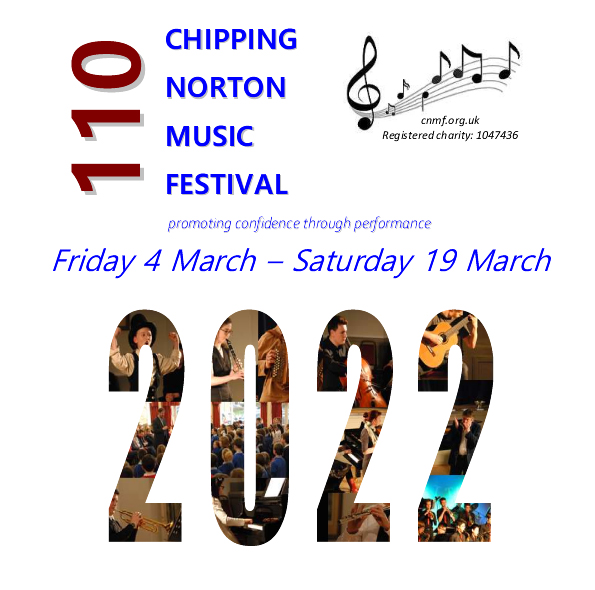 What is Chipping Norton Music Festival? It is a performing arts festival where performers of all ages take part and receive constructive feedback from expert professional adjudicators. We include choirs, ensembles, jazz bands, solo singers, spoken word, piano, strings, guitar, woodwind and brass classes. Unlike many similar festivals, we are not competitive and exist to encourage and share the joy of performing. Performers and audiences are all very welcome.
The Festival began in 1904, and apart from 1915 when it was cancelled due to 'the general distress' (!) it has continued ever since. However, the 2020 version was cancelled part-way through due to Covid and we were faced with a similar decision about the 2021 Festival.
The 21st century committee had a few more tricks up its sleeve than our predecessors did, and we knew an in-person Festival was not going to be possible, so we went online. Over 300 participants submitted videos of their performance and received comments from our fabulous adjudicators live over Zoom. It was amazing to hear so many entries from people of all ages, and to know that many people locally had taken up playing an instrument as a lockdown project and were sharing their skills, albeit in a new way. We also had entrants from a wide area including Scotland, so we can rightly claim to have become an international festival!
And so, to 2022 – the 110th Festival. We are cautiously planning for a full in-person festival. Since those early days the Festival has grown from 2 days to over 2 weeks, running from 4th – 20th March 2022. Most events are in the Town Hall, but we also pop up from time to time in Chippy School, the Methodist Church – and our folk singers will be found in the Chequers in Chippy!
As well as adjudicated classes we have masterclasses, workshops and professional concerts so there is plenty of opportunity for you to take part, or simply come along and listen to the fantastic musical and dramatic talent that we have in our area. Several groups that were formed just for the purpose of taking part in a festival are still performing today, so it is time to show off your skills whether old or new.
Obviously, things can change quickly in these times, so please check our website www.cnmf.org.uk for the latest news. Please come along and see what we do – and become the latest part of our long history. If you like what you see, how about entering in 2023? We look forward to welcoming you all in March!
Sarah Cobb
February – March 2022