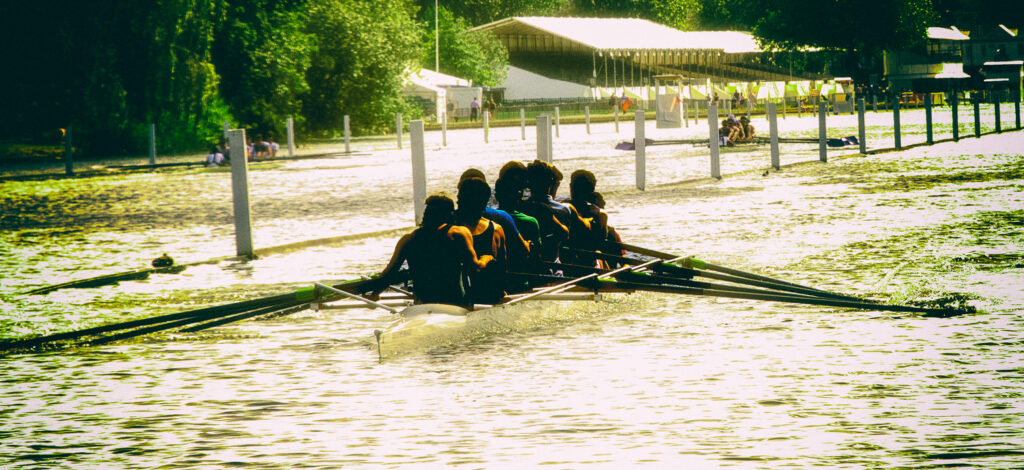 I was at college in Durham in 1970. Our college was one of the smallest in the university and always struggled to find a full team at almost any sport. This was great for those who loved to have a go at a particular sport despite having little experience of it (and often very little talent for it). Doug, an American on a year's exchange programme was able to fulfil his ambition to play in a cricket team batting at 11, scoring no runs and fielding (very) long on. He enjoyed the experience but could not get his head around the fact the midway through the game we all stopped and had tea and sandwiches and worst of all we shared it with the opposition.
My relationship with rowing was similar to Doug's with cricket. But the college had a boat club, and we took advantage by venturing out on a warm summer's evening in a training boat. It had the requisite sliding seats I seem to remember but was impossible to sink. A bit like training to drive a formula one racing car by taking out a tractor. It was a pair and so it was firstly Julian and I who took to the oars with Dave Newton as our cox. Julian was Welsh and played prop for the university rugby team, but his only experience of boating was winning the competition to name the new college punt – Mrs Puggywuggy (do not ask). Fully experienced in the dark arts of the rugby scrum he perversely wanted a go at what he perceived as a more gentlemanly sport. He had tried croquet but discovered this to be more vicious than rugby (especially when playing against the Church of England ordinands at our college).
So, we splashed and meandered our way up and down the river Wear at a leisurely pace on a summer's evening before retiring to the college bar to let everyone who would listen know how this rowing lark was quite easy. Newton, our cox, rather fancied himself in his role. The correct stature for a cox, with a red beard and authoritative manner, he had no problems instructing us, with a string of commands that he probably gleaned from watching the boat race on TV. Julian made it clear any more schoolmasterly observations on our rowing skills would lead to more than just mutiny. So Newton had to content himself with steering us up behind locals who had hired an ordinary rowing boat for the evening and announcing in a loud put on Oxbridge accent "Ahead Pleasure Boat, Ahead Pleasure Boat" as they looked round nervously expecting the university eight to come gliding by.
As the pleasures of rowing had been amplified by a round or two of beers, we managed to persuade Doug and his roommate Chris to have a go. But our hubris was sure to bring us down. The college boat captain was also in the bar one evening and desperately short of crews to compete in the college 'bumps' competition persuaded us to have a go in a 'four'. We learnt to carry the boat out of the boat shed, put it on the water and get in the boat without capsizing it. We were told the dangers of 'catching a crab', which meant that if you did not lift your oar out of the water quickly enough the handle of the oar could strike you a painful blow in the stomach and even lift you out of your seat. As if we were going to be travelling fast enough for that to happen, we all thought. Then we were out on the water, feeling especially precarious and top heavy in this new lightweight boat. Having surprised ourselves by not sinking, we slowly mastered the boat's capricious wobbles, and after a few sessions, even began to get a hint of the pleasures of rowing, gliding along rhythmically, oars lifting and dipping in unison.
And so we came to the eve of the race and of course our best rower Chris dropped out. Never mind, the boat captain found us someone to fill in. He would replace Chris as stroke – the most important rower in the boat who sets the pace. He had rowed for his school, Shrewsbury. (I did not even know Shrewsbury had a river).
In a bumps race competing boats chase each other in single file, each crew trying to catch and 'bump' the boat in front without being caught by the boat behind. First race we were off to a flying start and catching the boat ahead. This was due to the fact that we had a complete madman as stroke. We were shooting backwards and forwards on our seats, caught up as cogs in a machine on overdrive. Never mind I thought we are about to bump the boat ahead. Unfortunately, this boat bumped the boat ahead of it. We will have to give up I thought. No, the madman kept going to try to reach the next boat way ahead. My arms were straining, my legs were aching, my lungs were near to exploding, but we did it – we caught the boat three places ahead. Never mind winning, all I cared about was that the hurting had stopped. So this was proper rowing, the most exhausting activity known to man or at least to this man.
The next day we started the race in a new elevated position but with our old crew restored. We had overachieved and ignominiously descended the rowing order to our rightful position in successive races. After that I have stuck to only rowing in 'pleasure boats' but have always kept a great admiration for oarsmen and women who must be the fittest people in the world. And Steve Redgrave, gold medals at five consecutive Olympic games, complete madman – and legend.
Mike Hartley
August-September 2021