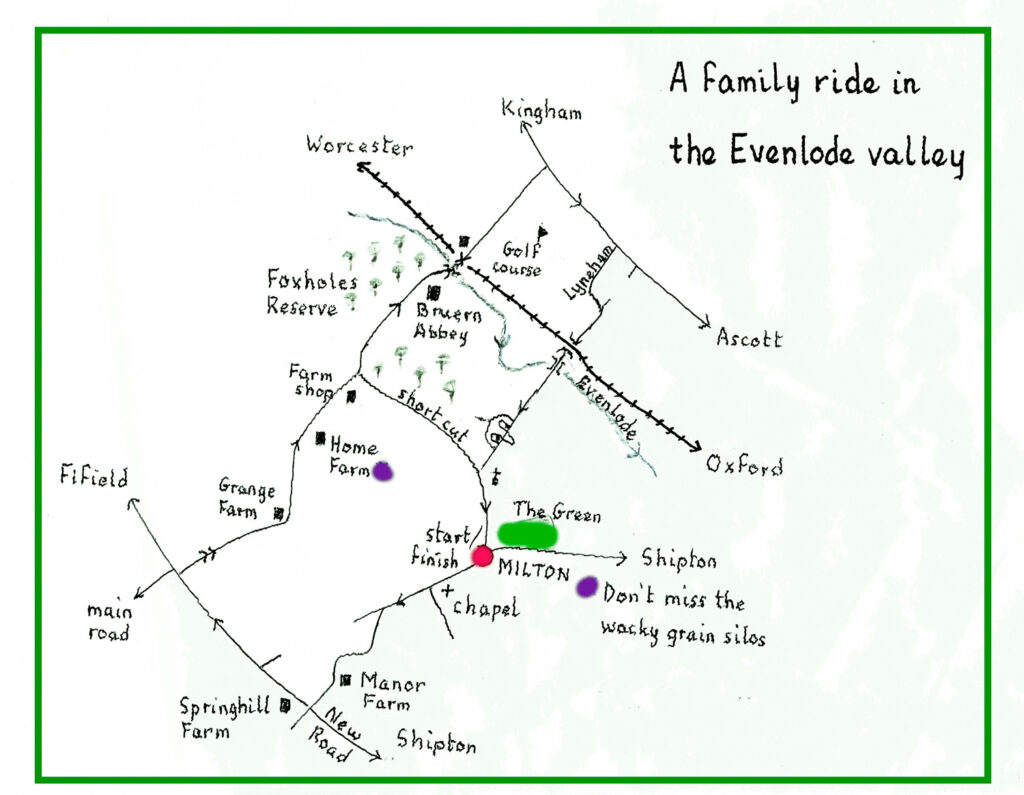 Cycling has never been so popular. The surge in interest began in the spring of 2020 when the first Covid lockdown coincided with one of the warmest, sunniest and driest periods that many could remember so suddenly cycling became the favoured form of exercise, the perfect escape from containment within four walls. The Cotswolds make for a perfect cycling environment with attractive landscape, deserted villages and as many hills as are needed but not so many that avoidance is impossible. The family ride described below contains many of these attributes.
The route is circular, almost exactly eight miles long and can start anywhere around the circle; this description begins on Milton's Green. From there, ride up the High Street, beyond St Jude's Meadow and turn left on the lane through Upper Milton. Beyond the farm, at the crossroads – note the restored sheep wash – turn right up a short stretch of road that cyclists describe as 'lumpy.'
After about a mile, turn right down towards Bruern; 'down' is the operative word as this next section of road is not only largely deserted but slopes steadily downhill with good visibility so for confident riders, and perhaps even over confident riders, exceeding 30mph is quite possible.
This back road, rarely used, winds gently past a couple of farms, past the fields made popular in 2020 by their eye-catching field of sunflowers and then climbs almost unnoticeably to the Bruern farm shop at the end of the road back to Milton (short cuts available here).
Now is the time for another accelerating downhill, past the Foxholes Reserve, past Bruern Abbey and over the river and level crossing. This is care-free cycling at its best – quiet lanes, negligible traffic and just a silent Evenlode to cross via a bridge well suited to a game of Pooh Sticks.
Once past the inappropriately named 'The Crossing Cottage', inappropriate as it has been upgraded to mansion dimensions, the road rises gently past the golf course to a T-junction where riders turn right again, heading towards the hamlet of Lyneham.
Take the first right turn down the main street, a misnomer if ever there was one as the chances of seeing any human life are remote. Pick out the former village school on the left before the road surface disintegrates beyond a sharp bend and then turn right onto a poorly surfaced lane back towards Milton. The road continues under the railway bridge before re-crossing the river – more Pooh Sticks? – and rises up into Milton, just above St Jude's church, where a left turn returns the rider to The Green; time for a cup of tea!
Bob Forster
June-July 2021