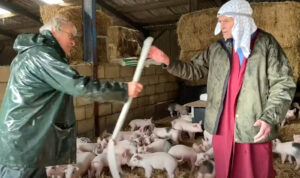 'Open the Book' is in essence a presentation of Bible stories during assemblies or collective worship in school. Each presentation last about 15 minutes, starting with an explanation of the story, a dramatic presentation of the story by the team assisted by some of the children and then a summing up, closing with a prayer. To bring the stories alive we use all sorts of costumes and props, from tea towel head-dresses to a five-meter cloth Wall of Jericho!
Covid restrictions meant we could no longer go into school, so we decided to film our presentations. The team – Sam Seccomb, Katherine Gidman, Bob Forster, Iain Russel-Jarvie, John Witts and Vicar Geoffrey got together every other week to do the filming. The children were also given roles to play, and the teacher filmed them and these clips were edited into the final film.
We had great fun filming storms on the Sea of Galilee, feeding the 5,000 and most memorable was the Prodigal Son. For this we filmed some scenes at the Pig Unit at Manor Farm with the help of Mike Hartley and his pigs. For the end of term in December we filmed a nativity play 'Mary's Story'.
So far this year we have not been able to meet as a team to film. This has meant that the story telling has taken on a more traditional 'Jackanory' style, with each story being read and filmed at home by a member of the team. The videos of these are then shown to the children through their on-line classes.
It is hoped that once restrictions ease, we will resume working as a team and eventually being able to return to tell the stories in school.
Geoffrey Clement
February – March 2022