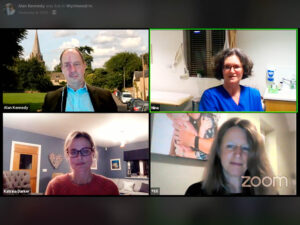 On Wednesday 3rd February, Amanda Clarke and Alan Kennedy interviewed Dr Katrina Darker and Dr Nina Brown about their experience of being a GP during the current pandemic. Here is a synopsis.
How have you and your staff found the last year? Challenging is the word that sums it up best. We neede to completely change the way we work at Wychwood Surgery. We have moved from being a drop-in surgery to complete telephone triage and doing most of our consulting by phone. It has been difficult for us as doctors, as we like seeing our patients and it has been difficult for our patients as well.
We are very lucky to be part of a community that still has old fashioned community values. We have a fabulous team and that has helped. Having bad backs caused by sitting still for four hours has been difficult but we have adapted by investing in standing desks!
Thank you – we have heard about the tough times – were there any lighter moments for you and the surgery? There are always lighter moments at the Wychwood Surgery. Reception thought it was absolutely hilarious when we started doing 10 minutes exercise outside in the garden every morning. We really appreciated the cake that got sent into us.
The question everyone wants answered is, can you tell us how you are getting on with the vaccine? After a rapid start, vaccine supplies slowed down a bit, but we are expecting big deliveries next week and are hoping to have completed group four by mid-February. No vaccines are wasted – we use everything we receive.
We believe you've had lots of phone calls about the vaccine. How many? A lot! It is extremely unlikely that anyone will be missed out. The answer to everyone is: you are on the list and you will receive a text or a phone call from us. You will be told which vaccine you are receiving and your second dose will be the same vaccine as the first. The groups are organised by age because this is the most important risk factor; a 40-year-old shielding due to a medical condition is much less likely to suffer severely from Covid than a person over 80. Please call about anything else but please do not ask about the vaccine, as the staff are overwhelmed!
What would you say to those who are frightened of being vaccinated? There has never been a vaccine developed that is more dangerous than the disease. There are many myths out there but they are both very safe vaccines. It is about protecting yourself, but also about protecting the community. For the sake of a possibly sore arm, you massively reduce the risk of going into hospital and of passing the disease onto others.
We are hoping to get Robert Courts along sometime (he has not responded yet) – is there a question you would like to ask him? We would like to know what steps the government is taking to improve the general health of the population. For example, it is easy to cycle in the Netherlands but much more difficult in this country.
If you had a magic wand, what three things viz COVID-19 would you wish for? For Covid to go away. If would be so nice to hug people again. We see how important lifestyle choices are for Covid, so I would love to see people taking their health and well being more seriously.
What will you do to celebrate at the surgery when all this is over? The staff at the surgery are going to have a giant group hug!
For a full version of the interview including such juicy morsels like which doctor is the worst at the morning exercises, do visit either the Wychwood Post of the Wychwood TV Facebook groups where you will find subsequent interviews or watch it on https://youtu.be/FE62rbGV8Fc
February – March 2022