16.01.43 – 12.10.20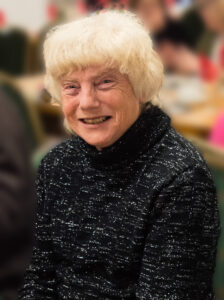 Rose was born in Southampton and moved to Witney when she was in her early teens. This was where she met her first husband Max. They had two children, Steve and Gavin. Sadly, the marriage ended in divorce leaving Rose to bring up Gavin and Steve on her own.
Later in life, she met her second husband, Roy Jones. They had another boy, Ashley, together. Sadly, Roy died while having surgery for a kidney transplant.
Rose then had to move from Milton-u-Wychwood to Ascott where she lived for twenty-five years. In that time, she became grandmother to six lovely grand-children who she was proud of.
Rose and I became partners for the last fourteen years of her life. Happy years, Rose loved her coffee mornings and a good chatter, making good friends such as Marie Moss and Jackie Peagram. Rose will be sadly missed by lots of people.
Rest in peace Rose.
Love Don xx
April-May 2021