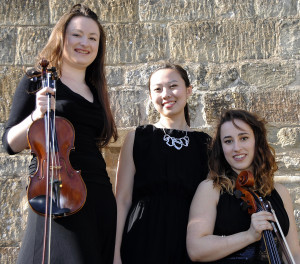 On Saturday 9th September, I was pleasantly surprised by a message from a friend asking if I'd like to bring my six-year-old daughter to join her and her eight-year-old son at a concert in St Simon and St Jude's Church. I agreed and we hastily got ready and left the house. My daughter was excited as she dearly loves to watch live music, having already been to some concerts, folk nights and festivals. I had never taken her to a classical music concert and was keen to add this to her education in music.
In learning to read, it's not the mere sounding of letters and slurring them together that enables you to read. The education around reading needs to include hearing the language, playing with the sounds, listening to the words in context, learning rhythms and sequences and, most importantly, absorbing the intonation from being read to. An education in music must surely be the same. A child needs to experience the sounds of different instruments, how they work together, how different stanzas can be echoed through different instruments in a piece of music too. They need to see the passion with which each person plays their instrument and see adults modelling an honest enjoyment of the music, more so even with the very often complex music from the classical genre. Like classical literature, classical music benefits from a deeper study to really appreciate its nuances. In a world so full of electronic music delivered through TV, radios and tablets, it would be my hope that children can make use of any opportunity to experience up front, live, raw, exquisitely beautiful, carefully prepared, passionate, breath-taking and humbly delivered music. Mila Piano Trio didn't disappoint! Thank you for the part you have played in our children's learning and for giving us all a thoroughly enjoyable evening. I wholly encourage you all to seize the opportunities to enable your children to experience the wonderful live music events that we are blessed to have in our villages.
"I loved how the emotions showed through in the third piece." (Eliza, age 6)
Don't worry if you missed the Trio – this talented, young group of players of the piano, cello and violin will be back on Saturday 3rd March 2018 with a programme of music by Schubert, Tchaikovsky and a piece especially written for them by Cydonie Banting. Look them up on milapianotrio.com. More details of the concert in the next edition.
Helen Mayo, Amanda Clarke and their children
December 2017 – January 2018