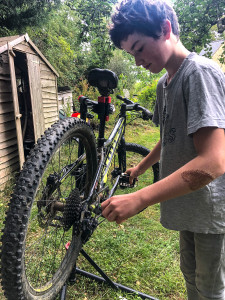 Time spent tinkering with bikes during lockdown has led to an opportunity for budding bike repair enthusiast Laurie Wessel.
I am thirteen years old and I have been riding mountain bikes since I was seven. One of the results however of biking over rough terrain, is that my bike was forever breaking. I soon discovered that the fastest way to get back in the saddle was to repair it myself!
I learnt my way around a bike by making working hybrid bikes from the various bikes that lay scrapped in our garden, which had once belonged to my four siblings. Once you start putting together and taking apart bikes, they seem increasingly straightforward and familiar. Before I knew it, I was also repairing my friends' bikes and so I decided to start a business: Laurie Bike Repairs.
So far business is booming.  I have received a few surprised looks from customers at my age, but I have managed to keep them happy. I have a new shed and have put all my profits into new equipment. My biggest challenge so far has been a full overhaul, and I am looking forward to the next one. 
Being local, people mostly drop their bikes off although I am also happy to collect them. My prices are very reasonable. Your bike will be welcome here!
lauriebikerepairs@gmail.com
August – September 2020