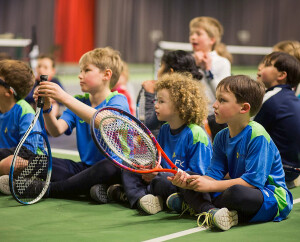 Tennis has been a life saver for the physical and mental well-being of its club members once the lock-down restrictions were eased, it being one of only two sports available during these difficult times. 
Chris Hampton, Club Coach, was inundated with requests for coaching, and the club has seen a surge in new members across all ages. Family groups have been able to play together right from the beginning. How good it has been for them to be able to enjoy some outside activity, with more court time available thanks to longer summer evenings. 
Unfortunately, the courts weren't available to non-members until 4th July, as with golf, due to the strict guidelines the club had to impose to ensure the safety of the players. 
However, as always, Chris is running the summer camps in August for three weeks which were open to all children between 5 and 16, but are now fully booked.
The club will be offering a free course to local mums and dads struggling with mental or physical well-being from September.
For more information please contact Chris Hampton https://clubspark.lta.org.uk/BreakpointTennisAcademy
August – September 2020