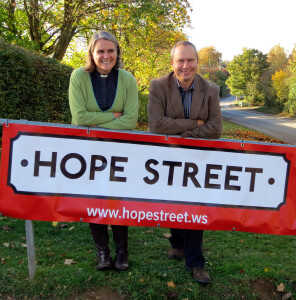 Back in 1980 our new vicar, Geoffrey Lindley, was still settling in to the vicarage and getting to grips with its huge garden. His wife, Jeanne, who was a deacon, soon showed that we had appointed two for the price of one. Geoffrey and Jeanne preached on alternate weeks, each in their very different style.
The churches in Shipton, Milton, Fifield and Idbury were much in need of rejuvenation and Jeanne and Geoffrey provided the pastoral care and the energy that was needed. Although they were in their final years of ministry before retirement, they succeeded in helping the churches to grow by encouraging many families to share in our worship during their six years with us.
The vicarage garden, which was little more than a huge lawn, was taken over by Graham and Pat Canning in 1986, and transformed into a beautiful garden (Pat) and vegetable plot (Graham). One edition of Gardeners' World was based in Shipton where Graham proudly pointed out his 'ivy tree', in reality a former telegraph pole covered in ivy.  Monday was their day off and they often spent all day working together outside. Graham was our Vicar for 13 years, during which he led the churches with enthusiasm and commitment. Pat acted as his secretary in the days before computers and printers were common in every home. Invitations, typed by Pat, for special services throughout the year, were sent to every home in the Benefice.
Children's Church thrived with Graham running planning sessions for parents in Milton and Shipton every month. He led from the front, always pushing himself to do more, and many in our congregations grew in confidence and faith. He attended every fete and garden party and sang with the Wychwood Singers. Graham saw that Shipton Church needed a new organist and in answer to prayer two came along at once: Stewart Taylor became the organist and Director of Music and Shauni McGregor sang, taught and played the organ when needed. Naturally the choir grew and we have been blessed by its ministry ever since. Graham also encouraged people to join a new team of bell ringers to ring the eight bells at Shipton. Some of them are ringing still!
Graham's retirement in 1999 left a big hole that seemed difficult to fill. Bishop Colin, who knew us well, offered a very different solution in the form of Mike Williams. He came to us, taking up his first post as vicar, fresh from the Health Service and introduced us to the 21st century. An Office Administrator, better time-management, and a passion for collaborative ministry followed. The ministry team grew to six members including lay readers. Mike challenged me to think about ministry and supported me through the ordination process. My training involved many of the people in our churches who came with me to lectures and gave me feedback. It was common in those days for two or three of us to share a service. Working alongside others is a great way to learn.
In 2002, as part of my training, I talked with the pastor at Milton Baptist church – Nick Gray. He was fairly new but happy to help and we formed a good working relationship. Over the next few years, the Anglican and Baptist churches worked together running a Holiday Club for children in the summer and many of the young people in Milton, from both churches, belonged to the Baptist Church Youth Club. Nick was succeeded by John Witts who has kept the Friday morning community cafe going at the Baptist Church, as well as the Youth Group.
Back at the Vicarage, the garden was halved when the vegetable plot was sold off and a new house built, making it a more manageable space for the new vicar, Wendy Callan. For the next seven years she brought creativity and empathy to her ministry, as well as flair and colour in her dress sense!
Kate Stacey took up her post as vicar in 2011, and with her husband Graham, also ordained, a new team was formed. Kate celebrated her 40th birthday with a barbecue in the garden, and with three young children they lowered the average age in our congregations considerably. They got to grips with the garden, developing a chicken run, new wood store and a shepherd's hut which soon appeared for Graham to use as his office. In the parishes, Kate encouraged a sense of urgency, challenging us to see Mission as everyone's responsibility, not just the clergy's. This was a fruitful time as many lay people took on different tasks in ministry, from playing in a music group to taking Communion to residents of Old Prebendal House and Tall Trees Care Home.
Kate moved on at the end of 2017 and after a short vacancy, Geoffrey Clement and his wife Angela moved into the Vicarage. A camper van and a motor bike are parked on the drive and their chickens have a new run in the front garden.
Geoffrey has encouraged lay people to continue their ministries and has formed new teams to lead Open the Book assemblies and Messy Church, both in Wychwood Primary School. The relationship between the school and the churches has grown stronger over the past 40 years and the children enjoy celebrating the major festivals in church.
Christenings, weddings and funerals mark the cycle of life in all our villages and we're thankful that those who live within the sound of the bells or the sight of a tower or steeple still look to the church at these special moments in their lives. The church is here, as it has been for so many years, to serve with love all who live within our parishes. All are welcome.
Anne Hartley
June – July 2020