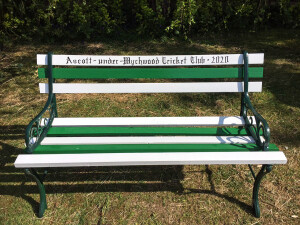 The bulk of this article pre-dates the Covid 19 lockdown but the club is undaunted – read on:
Hopefully all in the Wychwoods are pleased to learn that the club has re-formed to play friendly cricket again on the beautiful Memorial Field in Ascott for the 2020 season!
Ours is truly an historic village club. The earliest reference that we can find to cricket being played in Ascott is in 'Jacksons Oxford Journal' of August 24 1861 – a staggering 159 years ago! The paper reports a local derby match played against Shipton, resulting in an innings victory for the opposition.  Shipton scored 89, and Ascott's two innings returned just 35 and then 48 (scores were generally much lower then, mainly due to the very poor wickets and outfields).  The report goes on to say "at the conclusion the players and their friends sat down to an excellent dinner, provided by the worthy hostess of The Churchill Arms" – now Sunset House in Ascott. There are match reports regularly over the years from that point on.
It was a terribly sad day for Ascott when this once proud little club 'went to sleep' in 2010/11 – poignantly in what might have been the clubs 150th year!  Nobody wants to live in a village 'with nothing going on' but it does take time and effort to keep things going. So, with the kind blessing of The Parish Council, we are bringing this local institution back to life.  A cricket Phoenix so-to-speak!
But there are challenges – the main one is fundraising.   We are working hard at this and had been running a weekly tea and cakes stall, but this has been on hold for some time now due to the Coronavirus lockdown!  Hopefully it can resume in early summer.  Everything costs money, and whilst our 1960 Aveling Barford pitch roller has been coaxed back to life (with a huge deafening roar) sadly the engine block exhaust flange needs a specialist repair. The practice net facility has had to be completely replaced, then there's liability insurance and all the normal cricket running costs.  So, if anyone with a big heart and a desire to see the club thrive again wants to donate even as little as £1, do please get in touch.
Challenge no. 2 – players. The aim is that the club will be all-inclusive, male and female, ability is completely unimportant at this stage, it's enthusiasm we need to get going again. We've had a fabulous response from local players (as young as ten!) keen to play, but more are required of all ages – you don't even need to have played before. Do please get in touch if you fancy a game, even if it's only one match per season. There will be no membership fees, pay-as-you-play match fees only. We'll have free weekly net practice at the field, all equipment provided.
We have been working hard to bring the ground and wicket back to life, and have already booked our joyous first 'return' match, hosting Bampton 2nd XI on Sunday May 31st at 2pm – virus lockdown situation dependent.  In total we have six Sunday friendlies booked this season, all at 'home' against teams of appropriate (not too strong) ability.
We don't intend to try and (foolishly) compete with the size, prestige and facilities offered by Shipton and Charlbury Cricket Clubs. But there is absolutely no reason why a friendly, fun little club can't succeed at Ascott, as it did for well over a century.
All interest and offers of help much appreciated;
email us on AUWCRICKETCLUB@HOTMAIL.COM
or phone/text Stewart the Chairman on 07866 278685 .
June – July 2020