We are ready for a great 2020
We are looking forward to lots of fun at Pre-school this year: there will be cooking, crafting, singing, dancing, Forest School, sports day and lots of learning through play. Look out for our Pop-up Pancake Café event in February half term – all welcome to join us for pancakes and craft activities.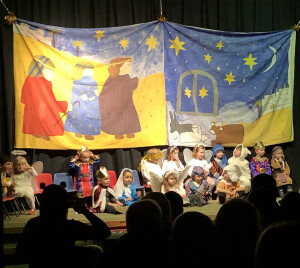 Celebrating Christmas at Pre-school
Christmas was wonderfully busy at Pre-school. We enjoyed lots of seasonal activities, took part in Save the Children's Christmas Jumper Day, and had a fun Christmas party on the last day of term. Earlier in December we welcomed Marianne from Wychwood Library, who visited to read festive tales and make Christmas crafts with us.
The children put on a brilliant show at our Nativity Christmas Concert. The audience enjoyed enthusiastic renditions of a selection of delightful original songs alongside old favourites including 'Jingle Bells' and 'We Wish You a Merry Christmas'. Every child took part in the performance, and the evening raised over £140 – we will use these funds to buy new equipment for the children.
Muddy fun at Forest School
The older children are continuing to enjoy regular Forest School adventures on the Bruern Estate. We have been fortunate with the weather we have had on Forest School days, though we have been getting extremely muddy. On one visit in December, we visited the car wash on the way home to clean the mud off our vehicle – the children found it very funny watching their teachers getting rather damp as the water bounced off the sides of the minibus!
Visits to Windrush Valley School
We are very lucky to have been invited several times to Windrush Valley School. In November we enjoyed playing in the new outdoor activity area, making leaf necklaces and searching for bugs. In December we met Father Christmas, listened to a Christmas story and made lots of festive crafts.
Want to know more about Pre-school?
We have space available for children aged two and above across our sessions. Pre-school runs at Tiddy Hall in Ascott during term time from 9am – 3.30pm on Monday, Tuesday, Wednesday and Friday (9 – 12pm on Thursdays). To find out more, visit our website www.ascottpreschool.co.uk, or contact Pauline via email (ascott_pp@btinternet.com) or phone (01993 832671).
February – March 2020