The club was formed in 1950 and so this year, 2020, we will be celebrating the club's 70th Birthday by organising several events for both members and non-members throughout the year. Watch out for announcements of these events. There will be a BIG PARTY in the New Beaconsfield Hall on Saturday 10th October with a '50's' theme to celebrate and tickets will be on sale soon.
The club has changed greatly since its early days when three grass courts were situated where Tothill is now in the grounds of Cromwell House, now called 'Holmwood', and paying just one pound per annum to rent those courts! I am not sure of the year the courts moved but I daresay someone will know.
After being evicted from the Tothill site, two tarmac courts were built more or less where they are now but when the New Beaconsfield Hall was built Archie Clark, who lived in Winterseeds opposite the hall and who was then the Membership Secretary, had a brilliant idea to rotate the courts and increase them to three. He was assisted in this project by Ian Carrington, Pat Edginton and Sir Johnny Graham. These three new courts were laid with artificial grass, much to the delight of the members as this surface is much kinder to the joints. In 2001 the courts were officially opened by Martin Hopkins, a television producer, who presented Pat with a large framed painting of Wimbledon featuring the Millennium Building.
Sadly, last year three of our well-loved members passed away: Anne Powell-Jones, a previous Chairman; Pat Edginton, who had been the club's President and a past Chairman; and Sir Johnny, a previous Treasurer and latterly our Patron. All had been great supporters of the tennis club over many years and we thank them for all the work they did for the club. They will be missed.
In the early days the club had far fewer than 100 members and very little competitive tennis was played against other clubs but today we boast approximately 340 members divided equally between adults and juniors and a very strong coaching programme for both adults and juniors – seven adult teams in the Oxfordshire Summer Leagues, five in the winter league and several Junior teams who play throughout the summer.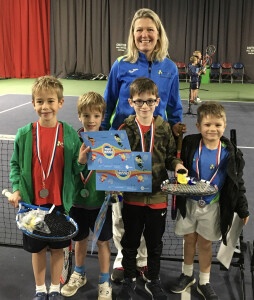 Junior tennis coaching started when Rosie Benson became the hall's manager as she had an interest in tennis, but when she moved on to work for Sport England, Chris Hampton took over and subsequently the club employed him to be their own coach. The number of people enjoying playing social and competitive tennis and having coaching has grown and grown. The children of Wychwood School benefit from a course of tennis lessons every year in school time which the club funds, culminating in a session on the courts. This gives those children a taster of another sport they might not otherwise experience. The club is an all-inclusive club and welcomes everyone. All the coaching programmes are open to both members and non-members.
Tennis is one sport that is played and enjoyed all year round and our members are able to play as many times as they want to at very little cost but sadly during the dark winter months play is restricted due to lack of lighting. We would love to have your support for our lighting application this year so that the juniors can play after school, adults can play after work and the coaching programme can continue and expand. At present there are over 50 children under seven who have coaching in the New Beaconsfield Hall but during the winter cannot progress to the outside courts because of lack of daylight hours. Our plan for the future is to make the courts more accessible to everyone, whether members or not, and because of new booking and access technology this will be possible.
Long may the success of the club continue.
Junior News from 2019
At the beginning of December our Under 8 Mini Red team, coached by Caroline Watson, reached the finals in an Oxfordshire tournament. They beat North Oxford, Banbury, Oxford Sports and David Lloyd in the first round, then beat Nuffield in the semis and played White Horse in the finals. They drew 2-2 in the final but lost on total points! Congratulations to Charlie Eyles, Jack Seaton, Kiril Egan and Sam Putt for doing so well.
Anita Hollingdale (Chairman)
February – March 2020