The Wychwood Magazine would not survive without its volunteers. Apart from
the layout and printing of the magazine, everyone responsible for the production
of this publication is a volunteer so all volunteers are very welcome. We are in
the fortunate position of gaining three new recruits in the past few months, each
of whom is enormously appreciated. Here, our three newcomers introduce
themselves.
Eve West: Deputy Editor

I arrived in the Wychwoods with my husband in 2002, first living in Shipton, then moving to
Milton with young children. I've spent 15 years teaching in secondary schools, and now fit in
GCSE and A Level tutoring and several administrator roles around increasingly busy
teenage life. As a family we're involved in music at St Mary's, and I'm most likely to be
spotted running around the village lanes, at the Library, or in the Co-Op!
I've enjoyed reading The Wychwood from the time we moved here. I particularly appreciate
the insights into the varied and often surprising lives led by individuals in these villages, and I
value the 'good news' tone which seeks to celebrate our community's achievements and
diversity. In a wider world of fake news and bad news, I'm interested in the role that the
magazine might have alongside social media, and I'm keen to reflect the interests and
concerns of families.
Edwin Wilson: Advertising manager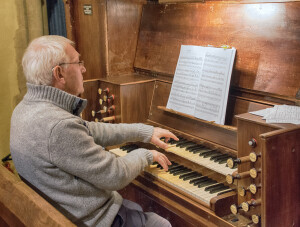 The role of advertising manager is a new learning experience for me, which as an educator and teacher is nothing new.
Born in Kingston upon Hull, I left school to work at the university there as a laboratory technician in the Geology department for three years. I also held the post of assistant organist at Hull Minster. Next step was going to Durham University to train to be a teacher and further develop my musical interests and qualifications.
Teaching posts took me to Berkshire when I took the opportunity to study at Birmingham University for a B.Phil in Educational Technology. Following that I was appointed as a Research Officer at the National Foundation for Educational Research on a national project looking at record keeping in primary schools.
On becoming a tutor at the Fire Service College I moved to Shipton in 1992. My role at the college involved advising staff on developing course materials, editing and designing assessments.
In retirement I have more time for organ playing and am a regular organist at Burford Church.
So, I'm enjoying this latest challenge and look forward to making a valuable contribution.
Rob Dyer: Distribution manager

Hello. I am Rob and, in a moment of weakness, I accepted the chance to join The Wychwood team, and am now trying desperately to ensure its distribution runs smoothly!
I am a West Oxfordshire lad having been born and brought up in Woodstock but moved into Shipton some 20 years ago. I have been on Shipton Parish council for three years and can sometimes be seen with a broom or a shovel helping the Shipton Volunteers. Alternatively, you may have seen me running through the village or on my daily walk with Jack, our black labradoodle. On occasions, I can even be spotted struggling to avoid defeat on the tennis courts.
Workwise, I had a near 30-year career in IT but am fortunate enough that I have been able to take early retirement. I am equally fortunate that I have been able to settle and put roots down in this lovely Wychwoods community.
Anyway, that is me in a nutshell. Hopefully you will continue to receive your Wychwood magazine but if you do not, you will know who to blame!
February – March 2020