Last year you may recall a strange gnome running around our village, training for the London Marathon. To date, Adam Smith, aka the MDUK GNOMERUNNER, has raised in excess of £25,000 for Muscular Dystrophy UK. This has helped provide vital support and research for the 70,000 Muscular Dystrophy sufferers in the UK, of which Adam's brother, Douglas, is one (he too lives in Milton).
However, not to be outdone, this year we decided it was the turn of the MDUK GNOMERIDER to jump on her bike and take up the fundraising gauntlet. So with this in mind, Maura Knight (Wychwood Pilates) and I signed up for the Prudential Ride London 100 mile sportive, which took place on the 4th August. This epic event starts at the Olympic Park, going out into the Surrey countryside (where it takes in the infamous Box Hill and Leith Hill), before coming back into London and finishing up the Mall by Buckingham Palace. This is the London Marathon of the cycling world!
Along with 25,000 other cyclists, we got up at the crack of dawn to stagger to our starting pens whilst grabbing a quick but vital last coffee. Pockets bulging with energy bars, gels, spare inner tubes, pork pies, jelly babies and suncream, we crossed the start line to music and cheers, with a mixture of fear and excitement rushing through us. This was the fun part. As one of the few 'closed road' cycling events, we had free range to whizz down the A12 dual carriageway at 20mph, through red lights and the wrong way round roundabouts – it felt very naughty but rather exhilarating! But that many cyclists on one road can make things a little risky, and a few times we were held up as accidents had to be cleared and people patched up. Luckily there were no serious injuries this year, but for two Cotswold mums it got a bit scary at times.
After 25 miles, we reached Kingston-upon-Thames, where I knew my family would be waiting for me at the Muscular Dystrophy cheer station. It was wonderful to see their orange gnome hats in the distance, and I enjoyed a quick stop and a big hug. Leaving them was surprisingly emotional and I found myself suddenly shedding a few tears. Only 75 miles to go!
After about 30 miles we left London and headed out into the beautiful Surrey countryside. As we cycled along we got chatting to fellow riders and met some lovely people – some from as far away as Australia and Asia – and all raising money for brilliant causes. After a couple of pit stops for refuelling came the HILLS. Box Hill and Leith Hill formed part of the original 2012 Olympics course and have since become infamous in the cycling world for being 'epic' climbs, made even worse by the number of cyclists of varying abilities all heaving their way up at the same time. So it was with a certain amount of trepidation that we began the climbs. But with many months of training around Snowshill under our belts, us Cotswold girls proved that we are made of tough stuff and we were at the top in no time, if rather out of breath, red faced and sweaty! The view from the top made it all worthwhile and we felt invincible!
Finally we re-entered London with only one more hill ahead of us – Wimbledon Hill at Mile 91! By this point our necks ached, our heads throbbed and our legs felt like lead weights. But as we turned the corner I heard a clear shout above the crowds: "Go for it, Madame Smith"! It was Maura's daughter (who I happen to teach French to), and it made me smile all the way up the hill!
And then we turned that last corner. There was The Mall, Buckingham Palace, the flags, the crowds of shouting supporters and, best of all, the finish line. Hand in hand we crossed the line together, huge smiles on our faces and really proud of what we had achieved. And we were still alive to tell the tale! One last thing, to collect our medals and enjoy a well-earned beer at the Muscular Dystrophy UK picnic in Green Park, along with all our family and friends.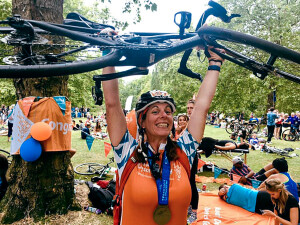 All in all it was the most amazing day and we achieved something that we are truly proud of. But most importantly, from our quiz night, raffle and the ongoing support of our wonderful community, we have managed to raise nearly £3,000 for MDUK, on top of Adam's £5,000 from last year's London Marathon. I would like to say a massive THANK YOU to everyone who has supported us over the years, be it through sponsorship, buying raffle tickets, attending an event, donating prizes or just time as a volunteer. We cannot tell you how grateful we are and what a difference this money can make to those who suffer with Muscular Dystrophy.
And it's not too late! If you would still like to make a donation, you can do so online at www.justgiving.com/toadstool, or in person at 30 High Street, M-U-W.
Thank you, Wychwoods.
Catherine & Adam Smith, & Maura Knight
October-November 2019