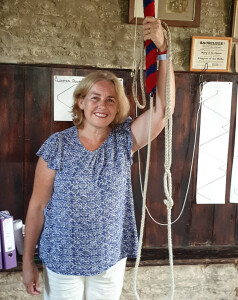 Little did I know four years ago when I thought about learning to ring bells! "How hard can pulling on a rope be?" Surprisingly difficult and much harder than it looks! I was so nervous to begin with. Pulling on a rope controlling something the weight of a small car requires technique and took me many hours to learn. Learning a new physical skill has been quite a challenge. Bell ringing is a team activity, is intellectually challenging and strangely addictive. It is mildly aerobic and a real mental work out, rather like learning to drive and later on a mixture of Suduko and country dancing.
I developed quite a social life, ringing two or three times a week and for Sunday services and weddings. I have been to many other places that I would never have visited, met other ringers from all over the country, all from different walks of life, where we can share our passion and experiences, not forgetting frequent visits to the pub. Tower outings are organised where we go out for a planned day of bell ringing at different churches further afield with a pub lunch. I have just returned from a residential ringing course in Berkshire to learn a new "method" (a specific sequence of changes in the order in which bells are rung)- a fantastic four days. A bell ringer can walk into any church in the country with ringable bells and be made welcome. This year on holiday I plucked up courage and joined the practice on St Marys on the Isles of Scilly and Holt, Norfolk.
I learnt to ring in Shipton. It became increasingly obvious that the bells were in need of refurbishment. A whole new chapter opened up as we started fund raising and organising events to raise money. People were very generous. Finally after many twists and turns the bells were rehung and we couldn't wait to ring them. A twist of fate – the church roof failed and we were instructed not to ring the bells! So all our hard work was put on hold – we were so disappointed!
Finally we were given the go-ahead to ring. What a delight it has been to hear the bells properly tuned and so much easier to ring. It is lovely to be complimented by the community about how the ringing has improved and how much nicer the bells sound.
Should this spark your curiosity and you would like to find out more about bell ringing, please get in touch with our tower captain, Mike Brooks (mikeandjoy0@talk21.com) All ages welcome from aged ten upwards; if you are fit enough to get up the stairs, you can learn to handle a bell!
Tracey Cooper
October-November 2019