We are a group of women who lobby governments, raise community awareness and influence change; we also make jams and knit cardigans!  Being part of the largest women's voluntary organisation in the country with 220,000 members in about 630 institutes offers every member the opportunity to learn new skills. Last year we marked 100 years of votes for women and this year we celebrate 100 years of the Oxfordshire Federation of Women's Institutes, two landmarks that have changed women's lives.
Campaigning has always been important to the W.I.; in 1921 for example, our campaign was for Women on Jury Service while more recently, the 2012 campaign was to increase the number of midwives. We are usually ahead of the curve in bringing issues to the notice of Government. This year's proposals are 'Don't Fear the Smear' and 'A call against the decline in local bus services'.
Our committee works hard to produce a varied selection of speakers for our monthly meetings. We have heard about writing a novel from our local author Jan Harvey; heard how housewives coped during the war years; learned the science and tasted the gin from the Cotswold Distillery. Talks that stand out have been Stewart Linford's history of the Windsor Chair and John Caldicott's personal memories of life in The Foundling Hospital, plus learning to drum rhythmically and how to play a saw (yes a saw!). Merleen Watson gave us a valuable insight into what it is like to be deaf and introduced us to Grace her service dog. And there is more to come including a Grandmother's Legacy, Milliner to the Stars and Self Defence; every meeting giving members the opportunity to catch up with friends.
We do like to get out and about tip-toeing through the bluebells or exploring deeper into the beautiful Cotswolds countryside discovering rare orchids. Some prefer to socialise in the comfort of members' homes and regularly enjoy coffee and cake mornings, Needles and Natter, Scrabble, sewing workshops or play-reading sessions together.  One new event is our Picnic In The Wild Garden when we share food and wine and sit around the bunting-strung lake in the Wild Garden. This year we aim to have guests seated all the way round the lake to celebrate the centenary of the Oxfordshire Federation W.I.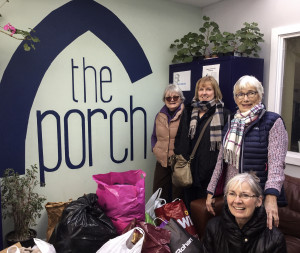 Once autumn approaches we have our harvest lunch for members, friends and many of our community, which leads smoothly onto preparations for the Christmas Fair, (get ahead of the rush at the New Beaconsfield Hall on Saturday 9th November) when we make Christmas cakes, mincemeat, chutney and even jam (again!)  Early December is when we have a wreath-making session. Winter nights are perfect for a Quiz night to work the brain which is held in March each year.
We are not at all inward-looking, supporting many local charities and organisations, for example, donating clothing for the homeless as well as for patients at Sobell House. We also support local enterprises including the Saplings, our Day Centre and the school.  The W.I. is an educational organisation and each year some of our members benefit from a bursary for a course at Denman College, the educational facility of the W.I. in Marcham.
This is just a snapshot of the activities we are involved in and with walks, talks, teas and friendship there is never a dull moment. If you would like to know more please join us at one of our meetings or contact Kay Shortland on 832927 or Jill Mavin on 831091.
Visitors and new members are always sure of a warm welcome at our meetings, which we hold on the first Thursday of each month at 19:30 in the New Beaconsfield Hall.
Christine Halliday
August-September 2019