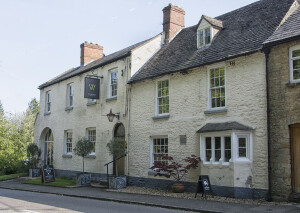 Over the next couple of issues I shall be reviewing the four pubs in Shipton and Milton. First out of the hat is The Wychwood in Shipton which is rather awkwardly situated on the corner of the junction into Milton. I took three friends with me one lunchtime and we deliberately chose different meals.
First impressions were good. The staff were welcoming and we were at our table with a drink in our hands in quick time. It's a pub so we started with beer and there were no complaints. The menu is divided into 'nibbles', starters, mains and desserts. There's plenty to choose from. We decided to go straight into the main course.
Our order was taken as soon as we were ready but we did have to wait longer than we had expected before the food arrived, longer than I would like. John chose liver and bacon which was perfectly cooked but his plate was much too full. The same for Stephen who ordered fillet. It was a good piece of meat, surprisingly tasty for fillet but it didn't need huge onion rings all over the plate. Andrew chose the hamburger without the bun and with vegetables on the side. Again the cooking was spot on. I chose hake, the only fish on the menu. Although I don't like the sea and enjoy living as far away from it as possible, I do like to eat fish. The hake was well presented and, unlike the meat dishes, my plate was not overloaded. It had possibly been in the oven for a few minutes longer than necessary but it tasted good.
We were so full that we had no room for the desserts but we shared a satisfactory cheese board. To accompany our food we tried three of the house red wines. They were OK, none of them outstanding but none of them awful. The wine list itself was slightly disappointing. There were no dates against the bottles which leaves me in the dark. The Wine Society's vintage wine chart is a constant presence in my diary.
The Wychwood doesn't feel like a country pub; we all agreed that it felt urban. But the food is good and the atmosphere might be more relaxing in the evening if there were more people about. If I was driving through Shipton and I happened to stop there for lunch I would be satisfied with my meal and happy that I wasn't tempted to tuck into the wine. I could even stay the night as there are five comfortable bedrooms.
Our bill was £120 for four which felt about right.
D.A.
June-July 2019