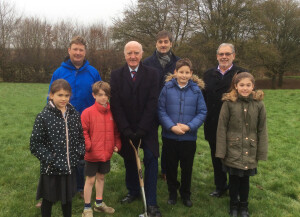 Four years ago the decision was made to install an all-weather pitch on the back field at school. This was to improve the sports provision at the school, give some much-needed extended playtime space and be a facility for the local community.
A huge amount of work had to be done. With the help of the parish council, planning permission was granted. Raising the money was a little harder, in fact much harder. Twice we applied for Lottery grants, both times unsuccessfully. Even our most exhaustive efforts were insufficient. Defeat loomed.
Whilst this was going on Martin Gibbs discussed our project with Lord Glendonbrook who kindly offered some funds from his trust, The Michael Bishop Foundation. When the decision was made not to go ahead Martin paid him another visit and to our absolute delight persuaded him to support the project for the full amount. There was a bit of a rush to get everything in place before the planning deadline but we managed it and to honour Martin's commitment to the project we asked him to cut the first turf.
Julie Hemming
April – May 2019