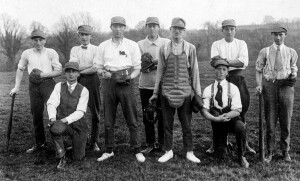 My first sight of a baseball player was probably at the North Leigh fete in 1951. I think Heyford USAF base must have sent a couple of teams for an exhibition game in a field near the old windmill.
At that age, I took little interest but a few years later, at another fete in Greys, south Essex, my eyes were truly opened, this time by the US Navy. There was so much action – three outs in every innings and there were at least nine innings for each team. The fielding was fast and accurate.
I tried to get a team together at my school but the headmaster was having nothing of it. For the first time in my life I had come up against pure prejudice. Fortunately, I changed schools shortly afterwards and the new school encouraged our sporting initiatives. A group of us scrounged or bought the necessary equipment and we would play scrappy games either on the playing field or at weekends in local parks. One of the boys went on to be the manager of the British baseball team playing in international competitions and his son played in the British team too – from little acorns.
I later pitched for Harlow and played in the outfield for Crawley but I did not have a strong enough arm so that was the sum total of my playing career, but I continued to follow the game in the US.
Moving to West Oxfordshire, I was surprised to see a blue plaque on a wall in Market Street, Chipping Norton, dedicated to Fred Lewis, the 'father of British baseball'. I dug a little deeper and discovered that West Oxfordshire was for a while the centre of British baseball because of his efforts. Fred started the Chipping Norton scout group in 1907. He wanted a game which could be played by boys of any age and size and decided that baseball would be ideal. In 1920 he founded the town's first team and matches were played regularly on a diamond, which is now the site of Cromwell Park industrial estate. Shortly afterwards there were teams in Chadlington, Ascott- under-Wychwood, Finstock and more teams within the town itself eg a Coop team and one from Rock Hill. There was no team in Shipton but an exhibition game had been played there in 1918. The most successful local team was the Blue Boys in Chippy, chiefly made up of local Coop employees. Eric Moss in his memoir of his youth in Ascott recalled,
"The game was played in the field going up to the top right-hand corner of London Lane. I have seen big hitters hit a ball from the batter's base about twenty yards inside the field gate entrance on the London Lane side, over the hedgerow on the far side to land on what we call New Road, the cart track up from Crown Farm"
In 1926 West Oxfordshire lads played against a team of London Americans at Stamford Bridge and won. It was common for American teams to tour and play in the district. There is even a report that the Chicago Cubs played at Moreton in Marsh in 1929. After the Second World War, there were games between West Oxfordshire teams and teams from local American Air Force bases. Unfortunately, the game died out after Fred Lewis died in 1960 and after a fire that destroyed the team storage hut along with much equipment.
The Chipping Norton Museum, which opens its doors again just before Easter, has an impressive collection of memorabilia and photographs of local baseball teams. There are also examples of equipment and uniforms. If you would like to experience the real thing, I strongly recommend you download the At Bat app. This must be one of the best sports apps available. Through this you can watch any major league game in high definition and with the home or away commentary. There is a subscription for the TV service but there is usually a free game available every day.
From that first view of those strange guys in their unusual uniforms nearly seventy years ago, I have come to the conclusion that you cannot truly understand American language, history and culture without a nodding acquaintance with baseball. So step up to the plate, look out for that curve ball and see if you can hit a grand slam.
Alan Vickers
April – May 2019