We are being encouraged to eat less meat,to increase fibre in our diet not to mention eating five portions of fruit and vegetables each day. This quiche fits the bill on all three counts and is tasty served warm or cold.
Serves 6.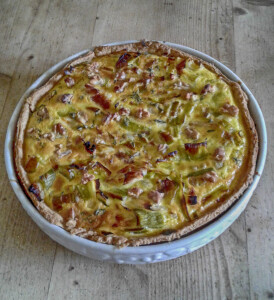 Pastry
6oz self raising flour (use wholemeal or white flour plus spelt flour)
3oz butter and lard mixed
Pinch salt
Cold water to mix
Filling
3 chopped leeks
I tablespoon olive oil
I chopped onion
2 chopped sundried tomatoes
2 large eggs beaten
5 fluid ounces double cream
2 teaspoons mustard
1 teaspoon chopped thyme
1 tablespoon Worcestershire sauce
2 tablespoons chopped walnuts
Method
Make pastry by mixing fat into flour
and salt and bind together with a little cold
water. Line an eight inch flan dish and chill
in fridge.
Heat oven to 200C or 180C fan or Gas 6 and bake blind for 20 minutes. To bake blind put a circle of baking paper on top of pastry and cover with rice, pasta or baking beans.
Whilst the pastry case is cooking, fry the leeks and onion in the oil in a frying pan for about 10 minutes or until soft. Add tomato and take off heat. Whisk together eggs and cream and add salt and pepper to taste.
Spread Worcestershire sauce and mustard on pastry and add leeks. Pour on egg mixture and sprinkle with thyme and walnuts.
Bake at 160C or 140C fan or gas 3 for 30 minutes at which point the filling should be just set and have a slight wobble when shaken. (If a ready-made pastry case is used, reduce the cooking time by around 10
minutes)
Flour Power
April – May 2019