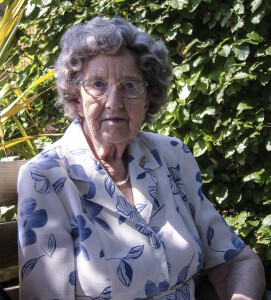 Eva loved being part of an active village ever since she moved here in 1952. Coming from their busy Service life in the RAF, she and her husband were warmly welcomed into the Milton community. Mum joined and was an active member of the parish church of St Simon and St Jude, the Mothers Union, the WI and thoroughly enjoyed all attributes of village life.
Eva was born on 9 June 1923 in Wallsend, Tyne and Wear, the youngest of four children. During the recession of the 1920s her parents moved south to find work and lived in Purley, Surrey. To put the world in context, Mum's memoirs record that electric light was installed in their house in 1933 when she was 10. Mum left school when she was 15 and undertook a three year apprenticeship in a department store in Croydon. However only a year later, in 1939, war broke out which made all their lives difficult living in London during the bombing. Mum wanted to assist with the war effort and despite her father's reservations she joined the fire service in 1941. She was initially based in Croydon in the plotting room working shifts of 48 hours on and 24 hours off during the height of the blitz. In 1943 Eva was moved to Norwich where heavy bombing was occurring near to the RAF and USAF bases. In 1944 her memoirs say that 'it was as if the whole of the British Army was camped on the beaches at Cromer'. However on the morning of her 21st birthday they had all disappeared, gone to join the D-Day invasion. When the war ended Eva left the fire service and joined the American War Graves Commission, undertaking the often traumatic task of repatriating America' s fallen soldiers and airmen back to the US.
Eva met and married our Dad after the war in 1948 and her settled life as an RAF wife began. In 1950 they were posted to Egypt where their eldest son Andrew was born. They returned in 1952 and moved to Milton. They rented a flat in Sunset House in Jubilee Lane and later moved to Stone Cottage where their youngest son Robert was born. After a brief tour to Australia in 1959 Eva and her family returned to the village in 1962 and lived happily in Holmleigh and later Swannington in Jubilee Lane.
Eva died on 26 October 2018, after a short illness, at the age of 95. She had lived a full life and was grateful for the friendship and support that she found within the village, not least in her later years from those at the Wychwood Day Centre.
Andrew and Robert Montgomery
February – March 2019