Following on from the article in the previous edition here are a few more compositional tips that you might find useful. Remember that they are only guidelines rather than rules but keeping them in mind when you are composing your shots just might help improve your photography.
Symmetry
In the previous article it was suggested that you may want to consider not placing your main subject in the centre of your picture. There are, however, occasions when you want to do just that, particularly where there is some symmetry in your image as in this example taken at Ducklington Lake.


Another example at the same location: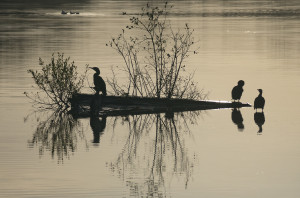 Leading lines
As the name suggests, the idea behind this concept is to use 'lines' to draw the viewers eye around the image. These lines can be obvious ones such as roads, rivers, railway lines, coastlines and hedges. In this example the road takes the eye down towards the village.


Here is another example where the line is provided by a bridge, leading the eye towards the city.


Lines do not have to be straight. The line of a river for example may meander through the image or, as in this next example, a line can change direction quite drastically.
Here you can see a 'Z' formed by the edges of the field and the line of houses. This is quite a common technique used in landscape photography.


Use of frames
Another way of directing the viewer to your subject is by framing it using other elements in your photo. There are many ways of creating a frame; one common way is by using trees and tree branches as can be seen in this shot of Burford Church.


Other possibilities are doorways, arches, windows etc but look out for less obvious framing opportunities.
Here is one taken at Hailes Abbey where we have frames within a frame.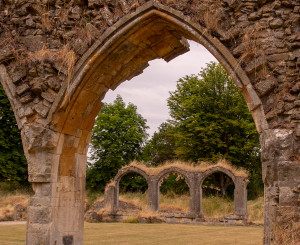 Interested in taking your photography a bit further?
Why not come along to the Wychwood Photo Group? We meet on the first Wednesday of each month from September through to May at 19:00 in the Shaven Crown. It is all very informal and friendly and geared towards helping everyone to get the most out of their photography. If you are interested do give me a call on 0780 220 1100.
Happy snapping!
Ray Derkacz
October – November 2018