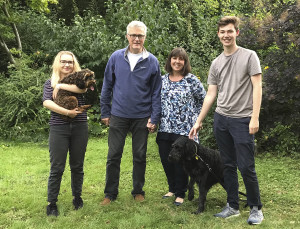 In October, Geoffrey Clement became the new vicar of Shipton, Milton, Fifield and Idbury. Here, he introduces himself to our readers.
So who am I? I answer to either Geoff or Geoffrey (the latter usually when being told off). I am married to Angela who has been working as a teaching assistant in a local primary school. My family is Angela and two-step children, Charles 19 and Nicola 17. Charles is off to Durham University in October to study physics and Nicola is going to Burford School to finish her A levels. There are also two dogs: Bobby an eight-year-old labradoodle and Bridget a seven month Cockapoo. The dogs are always delighted to meet people, so if you call in at the vicarage you will find a welcome from them as well as the family!
I grew up in Streatham in South London, the 5th generation to have lived in the Streatham area. I left school and took an apprenticeship with a firm of stonemasons working at Westminster Abbey. At the Abbey I ended up working in the drawing office producing full size drawings of parts of the building. In addition, I worked on a number of other London landmark buildings including Parliament itself.
In 1989 I was 'volunteered' to work in the Church in Uruguay, originally intending to stay for six months, but in the end I spent 12 years there. I was not a vicar when I went, but was offered the opportunity to do theological training in Montevideo and was ordained as a deacon in the Anglican Cathedral in Montevideo in 1994 and a priest in 1996.
I spent the last few years in the north of Uruguay where I had a number of churches to look after. One of these was in Fray Bentos, home of the Corned Beef factory. The factory is still there and is now a museum. You can still see the ramp where the cattle went in and the loading bay at the other end where the tins of corned beef were dispatched for shipping.
I came back to the UK in 2001 to work as vicar to seven parishes in Suffolk as my parents had retired to the area, and I wanted to keep an eye on them. In 2007 I moved to my current job in Holbrook just outside Ipswich where I have five parishes. After 11 years I felt it was time for a change.
That change means coming to be your vicar!
Both the family and myself are really looking forward to getting to know people and becoming part of the community. I hope you will find me open and friendly and happy to make time to be with people regardless if you want to talk about religion or just the weather.
Geoffrey Clement
October – November 2018