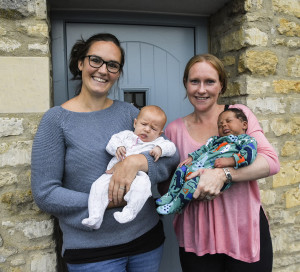 Two Church Street couples, Charlie and Dominique Loader and Sebastian and Rachel Veeder, have made an attempt to drastically reduce the average age of the Church Street population. Charlie and Dominique had baby Matilda in June, and Sebastian and Rachel produced baby Theodor (Teddy) in July. The two couples are not only good friends, but Dominique and Rachel are deputy head teachers in local primary schools.
Meanwhile, just round the corner, in High Street, Colin and Barbara Pearce celebrated their 60th wedding anniversary on 19 July. They were married in Shipton by the Reverend Cundell, which was apt as Barbara was the first baby to be baptized by Reverend Cundell when he came to Shipton.
Elsewhere in Shipton, Lesley and Kevin Woods were delighted to welcome the birth of their first child, Eliza (neighbours can confirm the arrival of a fine set of lungs in the road)! In that same road, Faye and Alan Snell are thrilled by the birth of Harper Joy, as a beautiful sister to Harrison.
Founder and mainspring of the Good Companions' Club, David Trollope, has celebrated his 80th birthday.
And not to be forgotten, in Milton, Margaret and Martin Gibbs (our Chairman) celebrated their diamond wedding at Beaconsfield Hall on Saturday 1 September along with friends and family; quite an achievement.
Congrats all round!
We are always pleased to hear good news like this so if you hear it, please tell us.
October – November 2018