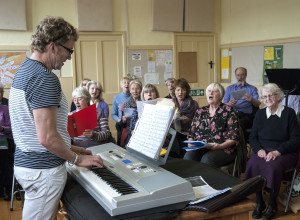 "Choir is the most important and most enjoyable of my weekly activities" – so says one of the Wychwood Singers. Over the past seven years, this choir has gone from strength from strength.
The choir has grown from six members in Milton Library to fifty-plus choristers of all ages, all of whom share one common purpose – to enjoy singing with friends. We practise every Tuesday at the New Beaconsfield Hall, Shipton-under-Wychwood from 13:00 to 14:30. Anyone is welcome from the least to the more experienced and no audition is required. Everybody agrees that it is a great social event and an uplifting experience. Our repertoire extends from choral to pop, folk to classical.
We have sung at weddings, social events, concerts and charity fundraisers and would be pleased to perform for any other community groups within reasonable distance of the Wychwoods. Recently we performed at the Burford Festival to a sell-out audience. If you would like to give the choir a try, why not come along as a guest for two sessions to see if it is for you?
Robin Martin-Oliver – Musical Director
As a singer, Robin had an extensive and varied career appearing with many of the country's leading companies, performing principal roles with, for example, Glyndebourne Opera and Covent Garden. Music festival appearances include Cheltenham, Edinburgh and Bath as well as broadcasts on Radio 3 and live performances of opera for BBC television. Robin is Musical Director of several choirs in Oxfordshire. He is in demand as a vocal coach and as a Stage Director.
Lydia Tomita – Accompanist
Lydia established herself as a versatile musician whilst still at school working on productions, including "Chess" and "The Pirates of Penzance" as well as accompanying local choirs and performing as a soloist. She studied Music at Royal Holloway University of London, where she specialised in performance.
Since moving to the Cotswolds, Lydia has become involved musically as co-founder/accompanist of the Rissington Singers. She also teaches piano to 25 children at the Wychwood School. We are privileged that she has joined the Wychwood Singers as our regular accompanist.
The final words are those of various choir members:
"The feel-good factor is like no other when a new piece of music, which has been well rehearsed, is finally nailed." (Di)
"It gives me a buzz." (Rod)
"It is really, really, good fun." (Jeni)
For further information, please call the Secretary, Duncan Sedgwick on 07850 702559 or email Duncan_sedgwick@yahoo.co.uk
Martin Gibbs
August – September 2018