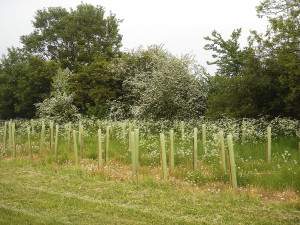 They are everywhere – fields full of what look like white or pale green sticks standing around a metre above bare soil. Off the Lyneham Road, in Bruern, beside the A361 just beyond the Chadlington turn, they really are everywhere, a new landscape feature that resembles an army of poles. Why so many?
This is all part of an initiative launched by the Woodland Trust back in 2010 known as the MOREWoods scheme. Since then, more than 1,500 hectares of woodland have been planted, incorporating well in excess of two million trees across the UK. Only 13% of the UK is wooded compared to a European-wide average of 38%. Luke Everitt, the Trust's outreach advisor for this area states:
"Woodlands are crucial in improving soil health and water quality, reducing carbon, trapping pollutants, slowing the flow of flood water, sheltering livestock, providing a home for wildlife or a space for us to breathe."
All the tiny trees, known as whips, that are planted inside the tubes are native broadleaf species, oak, rowan, crab apple, field maple and hornbeam are among the commonest. The whips need protection in the early years and while the plastic tubes are not ideal on environmental grounds, they are robust enough to withstand attack by rabbits and deer; alternative materials are being investigated for this purpose.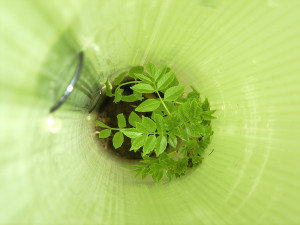 The whips and their attendant tubes seem too close together but, with an estimated failure rate of 10-15%, gaps soon form. Looks may be deceptive; in reality, the whips are planted two and a half metres apart and once this percentage has died, the woodland starts to take shape. After five years, the whips have grown into head-high saplings and, just fifteen years later, a young woodland has appeared, a blossom on any landscape.
The Woodland Trust has not finished, not by a long way. Anyone who wishes to plant a minimum of half a hectare of their land (1.25 acres) can sign up to MOREWoods. The Trust provides advice and guidance in addition to contributing up to 60% of the set-up costs.
At this rate, the Wychwoods will soon be able to reflect on the accuracy of its name.
Further information is available at www.woodlandtrust.org.uk/plant
June – July 2018