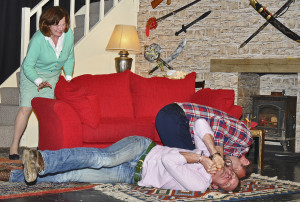 At the New Beaconsfield Hall.
The thriller "Deathtrap" is a complex "play within a play" and perhaps in homage to the late Ira Levin, this review should be in the form of a "review within a review". However, it would be hard to properly replicate the masterful plotting and the stage-craftiness of the original. Sufficient to say that the Wychwood Players once again triumphantly commanded the stage at the Hall with a faultless and gripping performance.
Although the set-up opening scene was understandably wordy, Aram Gregory confidently played to perfection the part of the amoral playwright Sidney Bruhl. In the role of Myra, his wife, Joanna McKerlie gave a convincing portrayal of a woman with nervous trepidations of impending doom.
The play took off with the arrival of the neophyte young playwright, Clifford Anderson, who, apparently, was the original deviser of the play within the play Deathtrap, which had been sent to Bruhl and alarmed him with its excellence and potential rivalry.
Richard J Hartley played Clifford with the eager gullibility of the young, and he demonstrated emphatically what a fine actor he has become. The interaction between Aram and Richard stood out as a class act, which would have graced any stage, amateur or professional.
Aram had apparently travelled frequently from Hong Kong for rehearsals and he can relax in the knowledge that his journeys were worth the effort, and he may even gain the epithet of "Air-miles Aram"!
The plot of Deathtrap progressed with some very effective business, and some genuinely heart-stopping moments to justify the witty pre-show announcement of the availability of a nearby de-fibrillator.
Essential to the plotting, the supporting characters of Helga Ten Dorp (sounds like an anagram!) the Dutch clairvoyant whose USP was her ESP, and Porter Milgrim, a lawyer with playwriting ambitions, were played impeccably by Candida Richards and Ralph Wears respectively. Candida is a newcomer to the Players and she is to be commended for not making her character too much of a caricature.
Julie Downing's taut direction kept the audience simultaneously on their toes and on the edge of their seats, which perhaps alleviated some of the discomforts of the hall chairs.
In a minor cavil it seemed a shame that the dramatic scenes ended with blackouts rather than curtains but, throughout, the committed acting succeeded in keeping the spectators engrossed.
Director and Producer, Julie Downing, did not fall into this death-trap, and lives to direct and produce another play. Let the plots thicken!
John Drew
June – July 2018