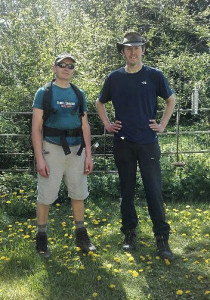 Back in 1988, two intrepid young cousins set out on an exciting journey to raise funds for Great Ormond Street Hospital for Sick Children. Their challenge was to take their Canadian canoe from Lechlade to London, paddling and camping. Their exploits were reported in these pages and the sum of almost £700 was raised, with the aid of one lock-keeper who wouldn't let anyone out of his lock until they had donated!
This year, 30 summers on, the cousins are at it again.
Andrew Bradley, proprietor of the garage (son of Bob Bradley who, when very young, needed the expertise of Great Ormond Street, hence the original quest) and Jason Bradley will be walking the Ridgeway…all 52 miles of it…in one go…in 24 hours on the 9/10 June.  This time it will be in aid of Sense.
For over 60 years, Sense, a national charity, has been helping people with complex needs, striving to unlock barriers to communication. Originally starting with those who were deafblind, the charity now helps individuals with many issues, using a personalised, flexible service to empower people to express themselves through speech, sign, touch or movement, gesture, sound, art or dance.
Andrew and Jason need your help to raise sponsorship for this wonderful cause. Andrew will have sponsorship forms at the garage in good time to collect any donation anyone might care to make. All welcome, don't feel you have to be a customer in order to help those people challenged by the simplest task of having a conversation, enjoying friendships or living independently. Sense is there for every person who faces a communication barrier in a world that relies on being able to see and hear well, to be connected, express themselves and reach their potential.
Read more at sense.org.uk
Thank you.
Kim Bradley
June – July 2018