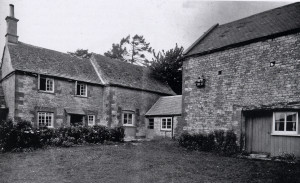 Few people go to Shipton Downs. Many pass through it on the way between Chipping Norton and Burford. Shipton Downs is the high saddle of land that separates the Evenlode valley running through the Wychwoods from the Windrush valley at Burford. It is an unremarkable piece of land that stretches across to Leafield: fields on both sides, a couple of farms, one with goats and chickens which often escape onto the grass verge, and a scattering of isolated dwellings. Nothing very noteworthy about it, but don't be deceived; Shipton Downs, as they say, has history.
For a start there is the earthen barrow that looms over the Evenlode valley, a Stone Age tumuli or burial mound dating back perhaps 2,000 years. Playwright, Christopher Fry, used to go up there to commune with nature, seeking inspiration for his writing.
Moving forward to the eighteenth century, the days of the original highway robbers, three highwaymen called, genuinely, Tom, Dick and Harry, were executed for their crimes, their bodies brought to Shipton Downs where a tree, forever after known as the Gibbet Tree, stood for many years. It was surrounded with an iron frame to contain the corpses which would rot over the years as a gory warning to other malcontents. Apparently the tree still stands, carved with the letters T, D and H; is this where the expression 'any Tom, Dick or Harry' comes from?
Not many people know that one building on the Downs served as an isolation hospital for those infected with smallpox, remaining open between 1901 and 1931, surrounded by farmland. The location and the excess of fresh air were responsible for many a cure.
That same dwelling was used as Shipton Downs Youth Hostel between 1933 and 1939. It was a strange site for a youth hostel. In those days, when virtually all hostellers walked or cycled between the hostels, there were, and still are, very few footpaths within easy reach and, of course, the building was a long way from civilisation, shops or public transport. Hostel details at the time refer to 'The chief attraction of the neighbourhood is Burford, a town of considerable architectural charm. Its church possesses the grim distinction of having a capacious "bone hole" under the south aisle.' Further details refer to a 'bus, Swindon-Banbury, very infrequent;' nothing new there! Reference is also made to the nearby hostels at Notgrove, Bishopstone and North Newington, all now sadly RIP. The hostel reached its zenith in 1938 when 1,533 overnight stays were recorded.
Perhaps the locational factors contributed to the comparatively short lifespan of the hostel. Records stop in 1939 and those days of hardy hostellers doing chores to assist in the running of the hostel, cooking over a stove and singing lustily around an open fire in the evenings were over.
Old photos show this solidly built Cotswold farmhouse on the outside, while photos taken inside show a typical youth hostel of the period, Spartan dining room and dormitories separated by flimsy wooden partitions. But there is one feature which is totally unique to this quaintly out-of-place hostel; old photos show an intricate mural high up on the wall, a semicircle depicting the weather, sun at its centre, and the various elements, cold, rain, heat and hunger listed around the circumference around a pair of jolly looking hostellers and their dog out for a ramble; all very hearty and energetic. Its style reflected the influence of the arts-and-crafts movement so prevalent in that era. Yet it is also slightly sinister, for there in front of the word 'hunger' is an eerily grasping skeleton; bizarre.
Of course, all that is many years ago. The exterior of the building remains eminently recognizable from the photos and, amazingly, traces of that mural remain; not all of it by any means, but rather like the wall paintings in Burford church, enough remains to identify the original mural. Intriguingly, Fred Travis, a hosteller visiting in 1933, recalls that 'in a stone barn, each gable end had murals painted by local students.' Now the building retains very little of its hostel character but clues remain to this day of a once thriving youth hostel.
Is that the sum of Shipton Downs' history? Not quite. Purely by chance, the burial records at Burford church were being examined recently and there, in 1937, was a highly enigmatic note stating that Kathleen Diana Lucy WOODWARD, from Shipton Downs, aged just seventeen months, was buried on 23rd May 1937, followed by a single word in speech marks: "Murdered."
There is certainly much, much more to Shipton Downs than meets the eye, an area of ancient burials, highway robbery, executions, jolly hostelling and a mysterious murder; featureless, maybe, but certainly not lacking in interest.
December 2017 – January 2018