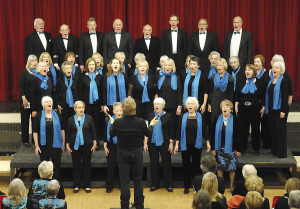 Singing in a choir has become a popular pastime in recent years and over the past six years the Wychwood Singers has gone from strength to strength. The choir has rapidly grown to 50+ choristers of all ages, all of whom share one common purpose – to enjoy singing with friends in four-part harmony.
We practise every Tuesday at the New Beaconsfield Hall, Shipton-under-Wychwood, from 1.00 p.m. to 2.30 p.m. Anyone is welcome from the least to the most experienced and no audition is required. Everybody agrees that it is a great social event and an uplifting experience.
Our repertoire extends from gospel to pop, folk to classical. We have sung at weddings, social events, concerts, charity fundraisers and were delighted to be awarded a distinction at a recent Chipping Norton Music Festival. This year we performed at the Burford Festival singing to a sell-out audience.
If you would like to join us or have more information, call the Secretary, Joanna van de Poll on 01993 830090 or email thewychwoodsingers@gmail.com.
ROBIN MARTIN-OLIVER – MUSICAL DIRECTOR
As a singer Robin had an extensive and varied career appearing with many of the country's leading companies, performing principal roles with, for example, Glyndebourne Opera and Covent Garden. He is Musical Director for several choirs in Oxfordshire and is in demand as a vocal coach and Stage Director.

LYDIA TOMITA – ACCOMPANIST
Lydia studied music at Royal Holloway University of London, where she specialised in performance. We are very privileged that she has joined The Wychwood Singers as our regular accompanist.
The choir is available for weddings and fund-raising events within a reasonable distance of Shipton-under-Wychwood.
Our final concert for 2017 will be at St Simon & St Jude Church, Milton-under-Wychwood at 7p.m. on Thursday, December 14th – A Christmas Celebration.
Why not come along and give it a go (first two visits free) or just come along and listen to us in rehearsal.
Martin Gibbs
December 2017 – January 2018