We are hoping to feature a straightforward recipe in each issue for a main course. It must be, as the title suggests, healthy and tasty, it should be easy to prepare, use regular ingredients and not take long to cook. Here is our first recipe, sent in by Dorothy McCutcheon.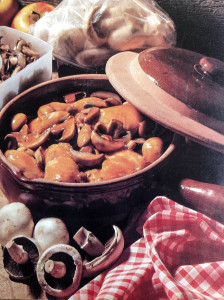 One pot family chicken casserole
You will need a large casserole dish with lid
Ingredients
5 chicken portions
50g/2oz. seasoned flour
50g/2oz. butter
2 tablespoons olive oil
1 large onion chopped
4 rashers streaky bacon cut into strips
175g/6oz. large mushrooms (quartered)
2 lbs. potatoes quartered
250mls/8 fl.oz. hot chicken stock
Method
Toss the chicken in seasoned flour.
Heat butter and oil in a pan, and fry chicken portions until browned then place in the casserole.
Add the bacon, mushrooms and chopped onion to the pan and fry for about 3 minutes.
Add these to the casserole with the potatoes and chicken stock.
Cook at 180 C (160 fan oven) or 375 F.
Check that the potatoes and chicken are cooked (cooking time approximately 1 hour).
Serve hot with fresh vegetables or a green salad.
October – November 2017