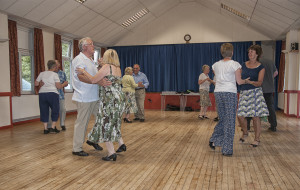 While society is continually evolving, there is a widespread myth that rural communities are somehow immune from change; nothing could be farther from the truth. New buildings, new lifestyles, new priorities and above all, new people, ensure that even the most remote village experiences change. A change that is often resented, or at the very least, viewed with a strong degree of suspicion.
Community life, where whole villages come together, is changing just as quickly. The church was often seen as the centre of village life, its services, meetings and events providing the backbone of community life; not any more. Dwindling attendances and the marginalisation of religion in a post-Christian society have seen to that. So the pub became the focus of village life but it provided a limited range of activities and before long, the popularity of drinking 'down the pub' declined and many pubs closed. Within the last few months, our region has witnessed the closure of The Fox at Leafield, a community-run pub seen as the future of pub management, as well as the Merrymouth above Fifield. With the decline of the churches and the pubs as centres of community life, a replacement was needed; and that is where the village halls come in.
The halls in our villages come from very different backgrounds. Their names often provide a clue to their origins – benefactors were credited with the foundations of the Tiddy Hall and the New Beaconsfield Hall, while Milton's hall evolved thanks to a community groundswell, and Fifield's hall was originally the Primitive Methodist Chapel before becoming a reading room and, amid much celebration, was upgraded and officially reopened by the Right Honourable David Cameron in 2010.
One feature shared by all our village halls is the regular and enthusiastic improvement of their facilities thanks to local initiatives. Fifield's Parish Hall bears little resemblance to its chapel foundations; Milton's hall has seen a vast improvement made to its catering facilities and the Tiddy Hall boasts a sprung floor that attracts dance bands from far and wide. Not to be outdone, Shipton simply moved their hall to the other side of the road thanks to lottery funding and an energetic fund-raising programme which included, perhaps most spectacularly, Dr Scott wing-walking over the site during the village fete. So now all our halls are very fit for purpose.
And they are a hive of activity. To thrive, our halls need a wide range of activities and, where possible, a regular, daily user group such as the pre-school groups at Ascott, Shipton and Milton which help to give hall finances a more secure footing; a regular income is assured. It is maybe something of a generalisation to state that Shipton and Milton have a vast assortment of user groups while Fifield and Ascott are more dependent on community events to fill their calendars. Sports' clubs are particularly strong at Shipton, which benefits from the tennis courts and playing field on its doorstep, as well as a gym at one end of the building. Both Shipton and Milton have activities for all ages and tastes, playing host to many local clubs ranging from gardening to dancing to Brownies. There really is something for everyone.
While these clubs and groups provide the bread and butter of community life, there is no shortage of the caviar equivalent provided by special events – balls, a Mediterranean cuisine evening, film nights, ceilidhs, the annual MUWAGA show, quiz nights and even one especially memorable wedding at the Tiddy Hall when the whole inside was transformed into a Moroccan-styled marquee.
One other feature common to all our halls is the energy and enthusiasm that goes into running them. This is where the volunteer workforce is seen at its best, meeting regularly, usually tucked behind the scenes at all events and endeavouring to meet the needs of the whole community. Volunteers are drawn from all walks of life – in fact, Milton's hall committee seeks at least one representative from each of their user groups, surely a model of good participation. Attitudes are overwhelmingly positive; as Lee Wyatt-Buchan states in relation to Shipton's hall, their management is based on a "can do and will do attitude." Ascott's Simon Gidman added "progress and improvements are never ending!" And Catherine Hitchens at Fifield summed it all up when she stated "the hall is a great asset at the heart of village life."
Perhaps churches and pubs have had to take more of a back seat in community provision but thanks to generous benefactors, grant aid, fund raising and the efforts of an army of enthusiastic volunteers, our village halls continue to be the life blood of our communities.
With thanks to Simon Gidman, Edna Naish, Catherine Hitchens and Lee Wyatt-Buchan.
October – November 2017