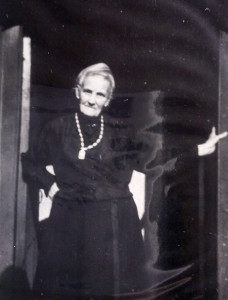 Annette Williscroft's great grandmother, Mary Anne Maisey (née Tubb), used to live at Snowdrop Cottage in Shipton. Her grandmother had told her father that Mary had run a grocer's shop in Shipton with a big orchard in which she played, and that was all she knew until she found herself in Shipton while caravanning about three years ago. Annette has written up her findings and these are her words.
"During our first visit we took the opportunity to look for her family home. We asked some ladies who were doing flowers in the church and they told us to ask the lady in the florist's shop. She was very helpful and said that she remembered Tubb's sweet shop. She directed us to it, just past the Lamb Inn, but she said you won't be able to see much as it is covered in ivy. She was not wrong, but at last I could see where my grandmother came from. I kept my eye on the property online and last year I saw that planning had been granted to develop the site. By luck, once again we were in our caravan in June, not far away, so we went to see if there had been any development.
We were just in time. All the outbuildings had been demolished. The cottage was now standing forlorn, a tumbledown building stripped of its greenery. The demolition men told us that, once the ivy had been removed, they found that was mostly all that was holding it up, so most of the building would have to come down. There were trees growing inside the building. The whole thing was unsafe so sadly I was not able to go inside, but they did allow me to take some photographs. They gave me a small piece of blue and white pot they had found in the garden and pointed out a date on the chimney, 1896. The building was to be demolished in the next few days; we were just in time!
My great grandfather, Charles Tubb, was born in Churchill in 1847. He earned his living as a shepherd. In 1872 he married Mary Anne Maisey from Fulbrook, and in the 1881 census they were living a few doors away from the Lamb Inn and he had become a butcher. This leads to a little confusion as the chimney is dated 1896. Older maps show a building there, but was there a new building put up in 1896? We may never know.
Charles and Mary Ann had eight children, William George, Mary Annie, Thomas, Sarah Edith, Charles, Albert James, Ethel Louisa and Alice. Charles sadly died in 1908. Mary Ann, no longer able to run the shop as a butchers, continued business as a general store. Of the children, William George went to live in Kenilworth, Thomas left home and was working as a gardener at Luton Hoo, but eventually moved back to Arden's Grafton. Ethel Louisa emigrated to New Zealand. Sarah Edith, my grandmother, married my grandfather Albert Yardley in 1914 in Shipton. He came from Coventry and they settled there to live. Albert James married Alice Smith in 1916. She had been working at Shipton Court. She and one of her siblings called May had been brought up in Shipton by their grandfather and an unmarried Auntie. They too moved to Coventry.
This left Charles, Mary Annie and Alice at home. Mary Annie passed away in 1943 aged 93. There lies another mystery as her death certificate and gravestone both refer to her as Jane! After her death the three remaining siblings stayed on in the house. Mary Annie now ran it as a sweet shop while Charles was head gardener at Shipton Court. He is mentioned in the 19th edition of 'Wychwood History' about Shipton Court, when it was owned by the Thompson family from 1919. He was in charge of the glasshouses and the production of strawberries and new potatoes, which delighted guests when they were served at Easter. Charles's sister, Annie, also worked in the garden and was quite a character. It also says in the article that Dor Thompson ran a market garden in Bampton, having been well taught by Charles.
Mary Annie died in 1962 and it is probably then that Charles and Alice decided to join Ethel in New Zealand and sold Snowdrop House to the Oliver family. It was subsequently left vacant, to be taken over by nature over the next half century.
I have been able to get in touch with my second cousin, Pauline, who is the granddaughter of Albert James Tubb. She visited Snowdrop House when she was young and has fond memories of the house and family and can remember riding a pony in the orchard. She has shared photos of some of the family but I still have not been able to find a photo of what the house and shop looked like when it was a family home; if any one has any pictures or memories of the Tubb family and Snowdrop House I would be most grateful.
We have noticed that although the property is often referred to as Snowdrop Cottage, the family pictures taken in front clearly show it as being called Snowdrop House. Apparently Snowdrops grew in the front garden; I wonder if they will return in the spring now they can see daylight?"
With thanks to Alan Vickers
October – November 2017