1977 – 2017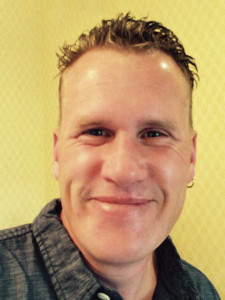 Neil Andrew Ford was born on 23rd March 1977 at the John Radcliffe hospital, Oxford; a little brother for Nicola.
Neil was a true Wychwood boy, attending first the local primary school and then Burford school. His father was a local Shipton boy, Brian Ford, and his mother a true Milton girl, Barbara Sowerby. As a youngster, he enjoyed cadets and bombing around the village on his bike. He was a great rollerblade fan and a fantastic ice skater. Neil was a spirited child and often found himself in schoolboy trouble, but he loved a bit of fun; he was a good friend with a heart of gold.
Neil's first job was landscape gardening with Pat Collier which ignited his passion for plants and flowers; something that continued throughout his life. He later returned to landscape gardening when he moved to Bournemouth.
Neil had various jobs over the years, some lasting longer than others. Eventually he settled on window fitting and worked for Homestyle in Witney, then Chipping Norton Glass and finally Global in Ireland. Neil never found it hard to make friends; he loved people and their stories.
A chance meeting in July 2014 at the annual village fete in Milton reunited Neil with his school days' sweetheart Fionnuala McCaul who had moved to Ireland with her family in 1991. Their friendship renewed and old feelings grew so much so that in August 2015 Neil moved to start a new life in Ireland with Fionnuala and her children. His family in England missed him terribly, especially his young nephew and niece who adored him, but they supported his wish to follow his heart and dreams.
A simple life to Neil was a grand life. He enjoyed gardening, browsing around car boots sales, second hand shops and cooking. He liked being outdoors surrounded by nature. A full Irish breakfast, a stroll along the beach, followed by afternoon tea and an evening in with his beloved Fionnuala, would be Neil's idea of a perfect weekend.
Neil was in the spring of his life having just celebrated his 40th birthday and bought a new house with Fionnuala in County Meath. Sadly he was diagnosed with a rare and aggressive Glioblastoma brain cancer on the 5th May 2017. He lost his brave and courageous battle just 4 weeks later on the 2nd June. We miss him, his kindness and sense of humour beyond measure.
Kind and generous donations at Neil's memorial service on the 19th June raised over £1000 for The Brain Tumour Charity.
August – September 2017