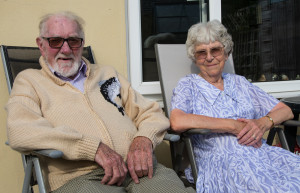 Looks are deceptive. John Pratley, a gentle bear of a man, eases himself into his armchair; alongside him wife June knits on silently. Oxfordshire has many Pratleys, but as soon as John opens his mouth, all thoughts of rural Oxon disappear into the ether for John's voice is pure Cockney, rhyming slang and all. The Wychwood Magazine caught up with him to discover the enigma that is John Pratley.
John: I was born in NW10, not far from Wembley, back in 1932. My grandfather had moved down to London from Finstock to find work, so he was a real carrot cruncher, while my mum's side of the family was from Scotland. When the war came, all hell was let loose where we lived. Our house was bombed twice, first by Doodlebugs which were really frightening, like flying bombs when their engines stopped and they crashed to earth – Boom! Boom! and then by V2s. Mum had to get me out of London. First I went to King's Langley and my last place as an evacuee was in Cornwall, near Land's End. In between, I twice went to live with Auntie Ivy in Ascott, but I'll come back to that.
I remember the farm seven miles from Land's End. Each morning, I had to get up early to milk the 13 cows; can you really believe a London boy giving the cross udders a bit of welly? True, and no porkies. And Mrs Jeffries, the farmer's wife, used to make clotted cream in a bucket – lovely jubbly!
After King's Langley, mum thought I was still too close to 'the smoke' so she got on the 'dog and bone' to Auntie Ivy who agreed with my uncle, Albert Pratley, that I could stay with them. We lived in the last of the 3 cottages past the playing field, next to Cloggy Clemson and then Jack Honeybones. I remember Mrs Lewis, our teacher at the school – she was very lumpy bumpy, stocky round the middle and you had to mind your Ps and Qs. We had to do as we were told in them days but she was lovely. Altogether I went to 4 schools during the War but, despite these changes, I'm not stupid.
At this point in our conversation, we asked June for any comments but apart from a wry smile playing at the corner of her mouth, the only sound was the click of her needles. We turned back to John and asked if he had favourite memories of these wartime years in Ascott.
What are rabbit currants?
John: Uncle Albert had 2 ferrets and we had to use them to catch rabbits for the pot. One day we went up Kingstanding Road with the ferrets in a bag and started searching the hedgerows that were thick with briars. We saw a line of rabbit 'currants' and knew the burrow was nearby. Uncle Albert stopped for a leak, and while his back was turned, the rabbit flew out of the hole and escaped behind him.
Another time we were out ferreting and we found the burrow. We put a net beside the bolthole and sent the ferret down. We waited for ages and the little —— never came out. We had to dig out the burrow and we found him fast asleep, having eaten the rabbit. Later, we had to laugh.
Oh, and I remember the Lardie Cake Man; we didn't know his name but he came down from Leafield every week to sell stuff on the village green.
John's boyhood in Ascott spawned a string of stories as raconteur and memories merged over a mug of tea. Then we turned to his life after the War.
Back in 'the smoke'
John: It was a happy childhood and at 14 years of age I left school to help my dad back in NW10. Apart from a being called up for National Service I then spent my working years at a dyers and cleaners, then at Heinz, then Sanderson's as a wallpaper printer and lastly as a driver with the GPO. At Heinz and Sanderson's, June and me worked nearby each other – we'd got married in 1957, and, me being an eager beaver, we had Susan a year later, then Ian. We loved dancing, all over the dance halls in NW10. (Editor's note: July 2017 marks the Diamond Anniversary of the wedding). At sixty, I retired and we came to live in Milton where we've been for twenty five years; happy years with our friends and family – lovely jubbly!
Hooked
And so The Wychwood left this contented couple, still counting their blessings, and with memories of one final story: one day not so long ago, John and June were fishing in the Evenlode at Ascott but nothing was biting. June resigned herself to her knitting, leaving her line in the water. John finally caught a chub, reeled it in and promptly lost it, the hook still in its mouth. A while later, June called for help as she'd finally got a nibble, reeling in a two pound chub; and there, in its mouth, was the hook John had lost; happy days.
John Pratley and Bob Forster
August – September 2017