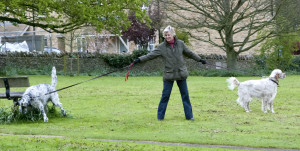 Recently the Legal Matters column in the Oxford Mail summarised the current laws relating to dogs. Apart from the risk of prosecution, for the safety of ourselves and our dogs, we all should be aware of these laws. Most people already know the legal requirement that all dogs must be microchipped from 8 weeks old, and that it is an offence not to 'pick up the poo'. But how many of us know the law says:
Any dog in a public place must have a collar with the owner's name and address or phone number attached.
Under the Road Traffic Act, it is a criminal offence for a dog to be on a public road without being held on a lead.
It is a criminal offence to allow a dog to be 'dangerously out of control'. This is defined as a dog which injures someone, or if the person has 'reasonable grounds' for believing it may do so. (This is quite worrying – we have all seen friendly dogs with no ill intent running up to dog-averse people and giving them a fright).
If a dog does injure a person (or attack a registered assistance dog, e.g. a Guide Dog), it may be seized by the police, and will be destroyed unless a court can be persuaded it is not a danger to the public.
Community Protection Notices can be issued to owners by police, local authorities, or social landlords if barking causes 'a serious nuisance', or a dog causes, or is likely to cause, harassment alarm or distress'. There are various fines and penalties for breaking these orders.
Every dog in the Wychwoods is well trained and polite, and so are the people, so let us hope we never have to deal with any of these problems.
August – September 2017