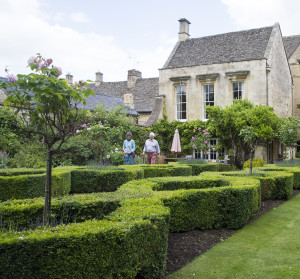 Well, we could not have asked for better weather, or a better turn out! Our Gardens Weekend was fine and attracted around 1500 people to the 28 open gardens, as well as a bumper audience for the four garden talks, many of whom stayed on for the Summer Rhapsody Concert in St John the Baptist Church, and braved the cool evening to enjoy Shakespeare's The Comedy of Errors by the River Windrush in the garden of Riverside House. It was a performance of such energy and fun that we forgot the breeze tugging at our ears!
After the hectic start to the weekend, we settled into a slightly gentler rhythm, albeit with at least four events each day for those who could take the pace and had eclectic interests. Highlights during the week were the fascinating and lucid talks by play director Deborah Warner, John Julius Norwich, film executive producer Jan Harlan and the heart-rending story of Orangutan rescue by Lone Droscher Nielsen. Local historians had their day – Ray Moody was a sell-out speaking on A Tale of Tudor Burford and Robin Mills shared his insights on events 100 years ago in 1917 – Year of Revolution.
Over 40 events were held in 13 different venues around Burford (excluding the pubs and gardens!) to keep our audience on their toes and vary their experiences, and this year we were treated to the award-winning New Warwick Hall for the first time. We used it for events with a large expected audience, or where we needed excellent audio-visual capability, and we stretched it to capacity both inside and out in the garden where we erected an outdoor stage for the second weekend.
That weekend had something for everyone. Outside we held a rock concert on Saturday night followed next day by a gentler jazz trio. The Wychwood Singers were in fine voice, enthralling a packed Methodist Church. Further musical items included a presentation about Kathleen Ferrier and a piano recital alongside the Burford Singers in our final concert.
The Festival is a real community effort, organised by a small core committee of five with another 10 key event organisers and then around 150 garden openers, tea and cake providers, stewards, bar staff, brochure distributors and bunting/signage erectors. It was a great pleasure to see the geography of our audience expand, drawing in our neighbouring villages and towns, as well as a good number of people from further afield to fill the hotels and pubs. Mind you, we are quite pleased that we have a year to recover before thinking too hard about 2019!
Hugo Ashton, Chairman
festival@madhatterbooks.co.uk
Mobile: 0771 249 0517
August – September 2017