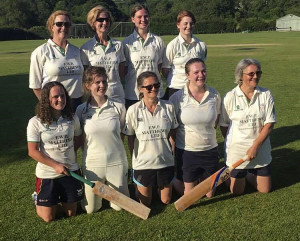 As we approach the half-way point of the 2017 season, the club has secured its first trophy this year with the Shipton Swans Ladies Team, led by Flo Woods, winning the Oxfordshire League for the second time in three years. A full report about the day from Flo can be found on our website www.shiptoncc.co.uk, and if the article inspires you, we welcome Ladies players of all age and ability to participate in the team – don't be shy!
The club's youth are performing well across all four of our Saturday senior teams; at the time of writing our 1st XI have just defeated top-of-the-table Amersham, with youngster Charlie Miller scoring his maiden Home Counties Premier League century, and our 3rd XI have gone to the top of the Cherwell League Division 8 table with youngsters Blake Richardson and Dee Jarvis combining for a 130-run partnership in the latest match, supplemented by a brisk finish to the innings by Freddie Norridge. Our 2nd XI are consolidating in Division 4 after relegation last season, with Ben Norgrove putting in several mature batting performances, and the 4th XI continue to flourish under Jon Woods' guidance with Ben Gibbons, Aiden Wilkinson and Callum Dingle showing promising futures with both bat and ball.
Off the field we have seen amazing attendances on our Junior Friday Nights, particularly with the addition of the ECB's All Stars scheme introducing cricket to 5- and 6-year-olds. Huge thanks must go to all our volunteer youth coaches across all age groups for making this all possible. Commendations too to Jonathon and Anabel Scot-Smith for revolutionising the BBQ and coping with the ever-increasing demand for Burgers and Hot Dogs! Feel free to visit the club on a Friday Night and enjoy the energy and social occasion with us – the parking issues along the main road and Plum Lane have been resolved with access granted to the Avenue allowing people to park on our Nursery Ground.
Our President's Day this year falls on Sunday 27th August and we welcome all members to the club on this day as the President's XI takes on a club XI, with the tea rooms full to the brim all day with bacon rolls, sandwiches, cakes, and a fish'n'chip supper in the evening, all courtesy of our President Geoff Miles and his family. We would also like to take this opportunity to thank the Johnson Quarry Group for becoming our new club sponsor and look forward to working with them as we continue to develop the club. The group consists of the three quarries, including the Great Tew Ironstone Quarry, and we are certainly hoping we can 'dig in' for a 'long innings' with them.
Justin Hemming, Hon Secretary
August – September 2017