In our last issue we announced a writing competition in memory of our much-loved distribution manager here at The Wychwood Magazine, Doreen Barnes, who brought smiles to people's faces wherever she went.
We have two winners, both from Wychwood Primary School, even though other schools were invited to take part. The winning entries are very different to each other; Romily has written a lovely poem about one of the village jewels, namely the Wild Garden, while Molly has delved into recent village history to give a potted account of some familiar buildings.
So here are the winning entries, The Wild Gardens by Romily Haworth, and The Wychwoods – past and present by Molly Abbott. And both girls are still at primary school!
The Wild Gardens by Romily Haworth
Sparrows weaving between trees
All of them waving just at me.
Ducks rippling in the lake
In the wind the pondweed quakes.
By the driveway of Shipton Court
For them, isn't it a lovely thought.
We can take a stroll whenever we like
Even a toddler on a trike.
Just to experience its magical views
It's open to the likes of me and you.
The Wychwoods – past and present by Molly Abbott, Year 4.
1. Dee's and Draper's Cottages.
If you walk down the High Street in Shipton, you will find two cottages, Dee's cottage and Draper's cottage. When I found these cottages, I decided to do some research on their history.

Whilst in the Wychwood Primary School library, I came across a set of books called Wychwood History: The Journal of the Wychwoods History Society. I looked through the set and in issue 10 (published 1995) I found what I was looking for, a photo of what was on the High Street before Dee's and Draper's cottages.
Dee's and Draper's cottages were a shop before they became cottages! According to the Wychwood history books, 'there was a notice on the wall saying, Stabling and Horse and trap for hire'. Dee, the owner, then bought property at the top of Church Street and opened refreshment rooms, a pork butcher's shop and the 'Horse and Trap' stables.
2. The Old Post.
Across the road from Shipton village green, you will find a long row of shops and houses. One building along here really stands out as it is bright red. A sign on the wall says 'The Old Post' which gives a pointer that this house may have been a post office. I don't know much about this building but it is definitely something to look into.
3. The Doctor's House.
If you stroll down Church Walk in Shipton, you will see an old house with a porch at the front. This building has a golden nameplate suggesting that a doctor lived here or that this was a doctor's surgery before the one down in Meadow Lane.
4. The old school.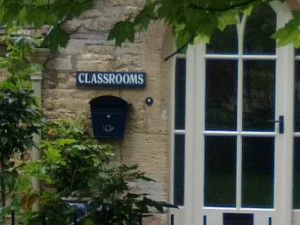 Down on Church Walk there is a house called Classrooms and I assume that it was a school before the school we all know and love: Wychwood C.E. Primary. With the building's large rooms and tall arched windows, it definitely looks like an old- fashioned school, possibly a grammar school.
Around the Wychwoods are lots of clues to the past of buildings. I personally love to delve into the past of the Wychwoods. If you are interested too, see if you can borrow a Wychwood history journal from Wychwood School. Each issue of the Wychwoods history collection has a different selection of intriguing history for budding historians like me.
August – September 2017