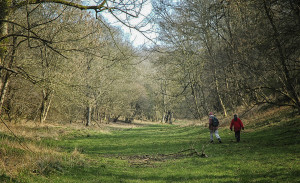 A Wychwood Project exhibition about the history of Wychwood Forest over 800 years has been awarded a Heritage Lottery Fund (HLF) grant of £8,000. The free exhibition will go on display from June to September this year in the Oxfordshire Museum, Woodstock. It explains the origins of the Forest as a hunting ground for Norman royalty, and illustrates the way of life of local people over the centuries, whether shepherds, woodsmen or gloveresses. It also covers the dramatic change to West Oxfordshire in the 1850s, when much of the forest was enclosed, trees were felled and the land was turned over to farming.
The Wychwood Project's Learning Officer, Debbie Pain, is delighted the exhibition has secured the HLF grant:
"We are thrilled that National Lottery funding is helping us to bring the story of Wychwood Forest to local people and visitors to West Oxfordshire. Many people are not aware that West Oxfordshire used to be a Royal Forest. The forest ruled our region for over 800 years influencing our landscape, buildings, industries and way of life and much of that history is still tangible today. We hope people will come along to the exhibition, get a taste of what it was like to live here in the time of the forest and see what a great legacy it has left us."
The Wychwood Forest Exhibition opens on June 10th at the Oxfordshire Museum, Woodstock and will run throughout the summer holiday period.
To learn more about the Wychwood Project
visit: www.wychwoodproject.org
phone: 07584 262437
email: wychwood@oxfordshire.gov.uk
Facebook: www.facebook.com/WychwoodProject
June – July 2017