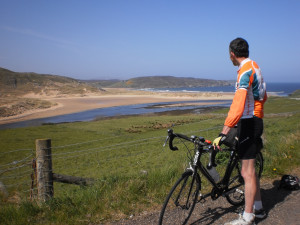 For you, what are the ingredients of a perfect holiday? Think back. Pause before you read on. There are perhaps three essentials of that perfect holiday, namely good surroundings, good weather and good company. But while individual readers will remember trips to Cornwall, the Lake District, maybe France or even further afield – New Zealand perhaps, I doubt anyone would choose a bike ride from Land's End to John O'Groats. Yet that ride, in the early summer of 2016 met all three of those components, plus one more for luck, but more of that later.
Landscape
Good surroundings – the Land's End to John O'Groats, or LEJOG as it is commonly known, had it all. The very best of British scenery stretched out in all its endless variety, notable not only for its attraction but for its memories of previous holidays and visits. Minor roads and cycle tracks were largely traffic-free. The route, organised by Peak Tours, began around the coastline of south Cornwall, alongside its bays and through idyllic harbours, before climbing over the wastes of Dartmoor, all emptiness and atmosphere, then dropping down to Bristol, over the iconic suspension bridge. The Severn estuary was crossed and the route meandered through the Welsh Marches up to Cheshire, skirting industrial Lancashire, and climbed the magnificent Lune valley where, on a sun-drenched Sunday morning, the church bells rang out at Kirby Lonsdale calling the faithful to worship.
Across the Scottish border, almost silent roads took riders through the Southern Uplands before arriving at Edinburgh. The Firth of Forth was simply breathtaking, with its array of architecturally impressive bridges above an improbably dark blue sea. Finally, there were the challenging but rewarding climbs over the Cairngorms into Inverness, up into the empty lands of Sutherland and along a windswept coast, craggy and deserted, to John O'Groats. If that route, that variety of scenery doesn't fit the requirement for wondrous surroundings, it's hard to think of what betters it. For the wide-eyed cyclist, it was nirvana.
The old hymn line, 'Ride on, ride on in majesty' seems wholly apt on LEJOG, although those readers familiar with the hymn may reckon that the next line is rather less encouraging!
Weather
The second element of the perfect holiday is good weather. This is not the sole domain of the continent and beyond. It may sound unbelievable, but this trip of fourteen days at the end of May and into June 2016 had only one wet day. Scotland's reputation for coldness and wetness wasn't realised, plus it was too early for midges, so every day bar one was dry with plenty of sunshine beaming down on black lycra and knotted thighs, and it was these conditions that made cycling so good; what wasn't there to like?
Company
The third factor is good company. Whether it is friends or family or both, the level of company can make or break a holiday. On LEJOG, most riders arrived as strangers and left as friends. All shared a common interest and all were aiming for a common goal. There was plenty of 'bike talk' but rarely of the techno-babble variety. Riders supported one another at all times with route finding, pace setting and general encouragement. Nobody was left behind and, throughout the tougher sections, there was always another rider to share the suffering!
So perfect holidays combine these three factors, good surroundings, good weather and good company; but what made this LEJOG the best holiday ever? What was that mystery fourth ingredient? Simple: a sense of achievement. To be able to cycle just over a thousand miles in two weeks, to 'climb every mountain' without getting off to walk and to reach a long-held goal, that was a wonderful feeling. It was achievement rather than pride and, when feet were finally unclipped from pedals, there was an overwhelming feeling of satisfaction; been there, done it and yes, I've got the T shirt.
Bob Forster
n.b. For those unfamiliar with the hymn mentioned above, the first two lines read as follows:
'Ride on, ride on in majesty,
In lowly pomp ride on to die.'
April – May 2017