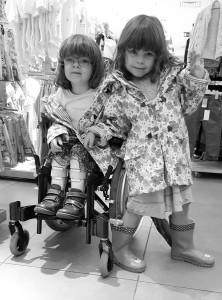 Alex's identical twin sister, Izzy, wants nothing more than to have her sister enjoy all that she does.  Her dream is for Alex to run and play with her and their friends, but Alex has Cerebral Palsy which affects her whole body, especially her legs.
Alex's leg muscles are in constant spasm meaning they are incredibly stiff and difficult to move.  She relies on vital equipment to help her walk – her splints go on first thing in the morning and come off last thing at night but without these, Alex can't walk on her tripod sticks or Kaye Walker and when really tired, she uses a wheelchair.
Alex is very determined so doesn't think of herself as disabled – she thinks she can do what Izzy can, but as adults you know that's not true.  So with revolutionary life changing surgery, Alex will have the chance to be like Izzy and give her a completely different future.
The surgery she needs is called Selective Dorsal Rhizotomy (SDR) which isn't available on the NHS.  Having responded extremely well to corrective casting in December we need to capitalise on this with SDR surgery as soon as possible.  Without it Alex faces a lifetime of casting every six months and ultimately being crippled with arthritis at 30 years old.
Having grown up in Milton under Wychwood, I moved back to the village in 2015 with my family, so that my parents, Patricia and Patrick McGeough could enjoy quality time with their grandchildren!  The support we've received so far from old and new friends, pre-school and primary school and the local community has been great, but we need more help in raising £50,000 for the operation and post-surgery treatments.
There are many ways you can help:
By running a fundraising event – from a bingo, cake sale or fun run – maybe use it as excuse to get fit or get family & friends together
For information on organising a fundraising event email Fiona Hutt at stepupforalex@fionahutt.co.uk
Thank you
Fiona and Calvin Hutt