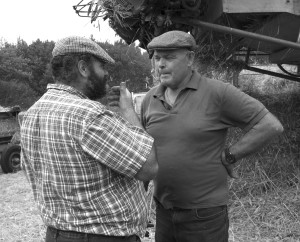 Christmas provides a deadline for all of us. The cards must be sent, presents bought and wrapped, the tree decorated and food for the day bought and prepared. And on the farm, 25th December is a similar deadline for our seasonal activity – selling the Christmas turkey. Selling a fresh turkey after Christmas would deter even Del Boy, so it is all hands on deck in the two weeks before Christmas. It is easier now that we have a refrigerated container. Turkeys need to be hung for at least a week after killing to give a good flavour. Before we had the refrigeration it was always a worry if the weather turned mild.
Our father started keeping turkeys in the 1950s. At one time he incubated the turkey chicks on the farm and kept four times the number of birds we now sell. I think Christmas was a stressful time for him particularly over whether we would sell all the birds. One year he was relieved to sell out completely until we had a knock at the door at 8.00 p.m. on Christmas Eve. Someone had come for the Christmas turkey that he had mentioned to Dad he would 'probably want' while out one evening at the pub. We always wondered what he told his wife when he got home minus the Christmas dinner. Another year Dad was stopped by the traffic police on the A40. As Dad nervously wound down the car window, the policeman cheerily said "Oh I thought it was you Mr. Hartley, I just wanted to order my Christmas turkey".
This year demand has been good, and farmer stress levels kept to a healthy level. The bird flu scare meant we had to keep the turkeys inside for the last five days as they were free range birds, but they had plenty of room in their indoor lodgings and suffered no ill effects. All the turkeys were killed and plucked in a day on the farm. There had been worries that farmers would not be allowed to continue to do this, but thankfully sanity prevailed and it must be better for the bird's welfare that they do not have to be loaded onto a lorry and taken off to an abattoir. We now employ a team of Polish pluckers who do a wonderful job. In the past there was always a team of women from the village keen to earn some cash before Christmas who did an equally good job. There may be some readers who came along with Vi Miles and have memories of the time; happy memories hopefully.
I hope you all enjoyed your Christmas dinner, whatever you had, and I hope 2017 turns out well for you.
Mike Hartley
February – March 2017