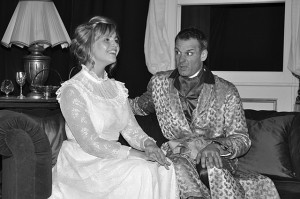 The synopsis of the play is not initially attractive in today's world of dissent and threat, but in this production of Oscar Wilde's Lord Arthur Savile's Crime by Constance Cox, the Wychwood Players triumphantly transported us back to Wilde's Edwardian London.
The admittedly preposterous plot involves a palm-reader predicting that Lord Arthur has to murder someone before he can marry his fiancee Sybil, and along the way he uses a professional anarchist to assist. Also helping him in the deadly task is the saturnine figure of Lord Arthur's butler, Baines.
Surprisingly from such a grim premise much comedy ensues.
The play is held together by the partnership of Lord Arthur and Baines and, in these roles, Richard J Hartley and Aram Gregory dominated the stage with commanding presence. Although Richard played a member of the House of Lords, his performance was in fact peerless. Aram, as Baines, played the gentleman's gentleman with real relish and his range of facial expressions directed to the audience was a delight.
Setting up any plot for a farce inevitably takes time and patience, but the director Julie Downing, successfully injected pace into every scene. The broader comedy scenes, often involving vases full of water and juggling with bombs, were played with great timing and panache.
The part of the ludicrous anarchist is a thespian's dream and Dudley Thompson duly "thesped" to his heart's (and the audience's) content. A newcomer to the Wychwood Players, Kelly Shaw was beguiling as the ingenuous Sybil and she showed that she can do good tears of woe.
The trio of Anne Hilling (Lady Windermere), Rose Hartley (Lady Clementina) and Rachel Read (Lady Julia) captured perfectly all the haughty arrogance of Wildean women. Ralph Wears seemed very comfortable as the hapless Dean of Paddington.
Richard Dreyer, as the charlatan cheiromantist (fake palm-reader) Mr Podgers, added a touch of villainy to the proceedings. Another newcomer, Dan Wilks as a manservant, blended in seamlessly with the established Players.
Visually the costumes and set were most effective and the cast coped well with a wayward door which seemed to want to make its own entrances!
Any play is a total team event, and the whole cast and crew deserve praise for a most entertaining production which was played with flair and finesse. The director, Julie, must now surely be considering another classic farce for our future delectation.
John Drew
February – March 2017