This is the site for The Wychwood Magazine, serving the communities of
The Wychwoods in the Cotswolds for 35 years!
The magazine is published every two months, by the community for the community and our friends, with 68 pages, packed with features, articles, news and short stories about life in the Wychwoods.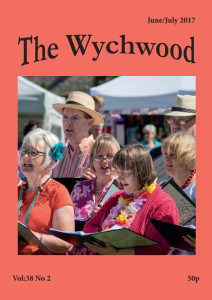 Latest issue: June – July 2017
Editorial
Winter is past, a time of hibernation and closed doors, moving into spring when colour reappears, neighbours are rediscovered, and now the summer has arrived (apologies if you are reading this during an unseasonal downpour!) Our magazine closely reflects this change of seasons with so much to report, so much to look forward to in this lovely corner of the Cotswolds.
This is a time to get out and about whether it takes readers into the garden or out into the countryside. While you are out, our photographers have been into the villages taking shots of what should be familiar places, but perhaps from unusual viewpoints, turning this into a photo quiz to tax us all. Articles inside will also reflect on sporting activities including running and motorbike racing with some noteworthy achievements from our residents. Details of the Milton fete, perhaps the social highlight of the year, are also included.
There really is no excuse not to go outside and enjoy everything that our locality has to offer; let our magazine inspire you.
Bob Forster, Editor
List of articles
The Vicar of Dibley. Another successful production from the Wychwood Players.
Are you an exhibitionist? Looking forward to the MUWAGA Produce Show.
Burford School. Summer term report.
All the fun of the fair…in 1954.
Going like the clappers. Bellringing in the Wychwoods.
Twas ever thus. Spring time on the farm.
Memories of Christopher Fry in Shipton.
Out with the old. St Michael's Store gets a makeover.
Fast and furious. The story of the local motorcycle endurance team.
Wychwood Project exhibition wins Lottery funding.
Obituary. Cicely Miller.
Wychwood Bowls Club. 2017 update.
Ring out the bells. Fundraising event.
The story of Chipping Norton Theatre.
Give us feedback

We are always pleased to hear from the community and our visitors.
Please take a minute to tour the site and give us feedback.

Submit an article!

We are always looking for interesting articles and features, so if you have a story to tell please check our Editorial Policy page for guidance on writing articles and for issue deadlines dates.

Take Out a Subscription

If you would like to have a regular subscription to The Wychwood delivered to your door, you can apply from this link.